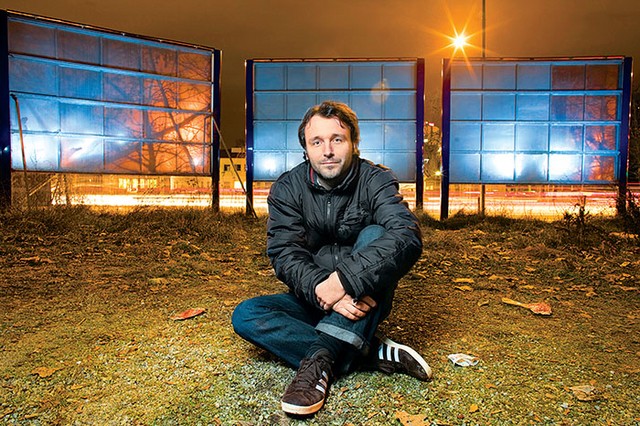 Short:
Oliver Vodeb is a Slovenian/Australian extradisciplinary designer, pirate researcher and educator. He is an academic at the RMIT School of Design in Melbourne, teaching in the Master of communication design. Oliver co-founded Memefest in 2002 and is the principal curator of Memefest and Lipstick+Bread.

He has authored and directed dozens of public communication campaigns and design interventions around the world and has curated twelve Memefests.
Oliver is the author/co author of the following books

Socially Responsive Communication (2008, University of Ljubljana),
with Nikola Janovic, Demonstrating Relevance: Response-Ability, Theory, Practice and Imagination of Socially Responsive Communication (2010, University of Ljubljana),
with Nikola Janovic, Indebted to Intervene: Critical Lessons in Debt, Communication, Art and Theoretical Practice (2015, Intellect),
Food Democracy (2018, Intellect),
Radical Intimacies: Designing Non-Extractive Relationalities (forthcoming 2023, Intellect)
Post-Branding: Fundamentalist Market Place Semiotics (forthcoming 2023 with Jason Grant, Set Margins).
He's work has ignited interest at universities, conferences and festivals around the world where he was invited to lecture and lead workshops. He operates in the overlapping and margins between academia, design practice and marginal social positions /social movements.
Oliver is the co-founder of Academics for Public Universities a disobedient think tank researching the deep crisis of Australian public universities.

Longer:

Oliver Vodeb's work engages in diverse and many times overlapping strategies. Currently his work is focused on research: writing/theory, public communication-design/art/photography, creative/conceptual direction and collaboration, education: lecturing/seminars/ self initiated workshops in an ongoing engagement with processes and institutions that determine our every day life and design social futures. He lives in Melbourne, Australia.
​Oliver collaborates with respected academic publishers like Bloomsbury (Design Philosophy Papers, Design and Culture), University of Ljubljana, Universidad Caldas, Intellect books UK while at the same time creating a new and independent scene, fostering fundamental change of communication/design in order to become relevant in times of radical uncertainty and environmental degradation. His research approach is inter/extra disciplinary and he understands theory and practice as interrelated.
Oliver holds a PhD in Sociology of communication and design, from University of Ljubjana, Slovenia where he has studied under Rastko Močnik, Mirjana Ule, and Aleš Debeljak. He was a for -ever brotherly amigo with Slovenian poster design legend late prof. Zdravko Papič with whom he has collaborated for many years. Zdravko and Oliver were to each other the biggest teachers (In the words of Zdravko).
He's work has ignited interest at various Universities and conferences around the world, where he has lectured and has held Memefest workshops.
Oliver initiated Memefest and started working on it with a small group of friends in 2002 in Ljubljana.
From 2003- 2011, he taught "Theories and practices of media and communication" at the Design department at the Academy of Fine Arts, University of Ljubljana where he started a completely new interdisciplinary area of critical studies of communication design.
From 2004 -2011 he was funding co- creative director of Poper studio, for public communication, a radical commercial studio which has been using his theories of socially responsive communication and design as the underpinning philosophy. Poper has worked on projects like a presidential campaign that shifted political communication from commercial branding to dialogue, the largest experimental design human rights communication campaign on the case of the biggest human rights violation in Slovenia (The Erased people) and the first open source peer - peer production based fashion brand. As a direct alternative to the existing mainstream design and advertising scene, Poper Studio existed for seven adventurous years and earned its members a living. No small thing actually, he would add.
In his time in Slovenia he was one of the most active and vocal public intellectuals critiquing the Slovenian advertising and commercial design disciplines and industries.
As a student he has directed the first all national anti drug prohibition campaign in Europe, "Prohibition Blinds"(check posters here). Oliver connected students and professors from design and different disciplines of Social Sciences, which never happened before. The campaign had major media coverage opening a broad public discussion on the topic. It went on for months and included the first public "smoke in" in front of the main University Building in Ljubljana, on Kongresni trg. He still thinks that this was pretty cool.

In 2011 he was head hunted from the other side of the world and invited to Brisbane where was teaching and researching at Griffith University Queensland College of Art/design department. He was director of the visual communication program and was in collaboration with design philosopher Tony Fry implementing the new Design Futures program focused on a radical decolonisation of design education based on un /learning, futuring and radical onto-epistemic design principles. One of the first things he did was to close down the commercial advertising course and introduce socially responsive communication instead. The aim of the program was no less than a) becoming an education and b) becoming the best design education.
From 2014 -2019 he was academic at Swinburne University of Technology, Melbourne- communication design department, focusing on communication for designing social futures and teaching mostly in the interdisciplinary masters of design. While he was teaching several courses, he most enjoyed teaching Design Futures. The course grew quickly and exponentially and it was the most popular master course despite its very demanding pedagogy of unlearning, decentering, deprofesionalization and anti ant-fuckering within a corporate university system. Oliver fondly remembers the many fantastic students in this program.
From 2019 he is very happy to be an academic at RMIT University School of Design, where he teaches Design Studies, Design Strategy, Research Methods for design and Design Studio classes in the Master of Communication Design.

Dr Vodeb has published four books with University of Ljubljana and Intellect Books UK and numerous papers in journals like Design and Culture, Design Philosophy Papers, Journal for Critique of Science and Art, Kepes, has curated twelve Memefest's and was creative director of dozens public communication campaigns/ interventions including the first national anti drug prohibition campaign, a presidential campaign and the largest experimental design human rights campaign in Slovenia. He has lectured around the world, co-directed Poper studio for public communication for eight years and has given Memefest workshops in Slovenia, Colombia, Netherlands, Australia, USA and Cuba; Oliver is involved in onto-episemic transformations and disobedient praxis of design for the last twenty years.

When asked about design awards, he likes to think of Nick Cave, and offers this reading.
He's most recent book Food Democracy, Critical Lessons in Food, Communication, Design and Art is published by Intellect Books UK. The book is sold out and was reprinted. He is currently working on a new book project titled Radical Intimacies.

Oliver founded Memefest festival of socially responsive communication and art in 2002 and is principal curator since its beginning. The festival nurtures and rewards theory, research and communication that works towards a more equal and just society. Committed to social and environmental change, critical pedagogy and dialogue, and with participants and collaborators from more than 60 countries the festival is a unique alternative to the surface spectacle driven advertising and design festivals and other competitions that drive our understanding of good design and communication. Memefest is designed as a tactical, educational, communication and research tool and connects academia, professionals, activists, artists, theory and practice. Oliver also facilitates Memefest's online social network, free of any intentionally embedded surveillance and hidden commercial value extraction of published data.
He's newest love is www.lipstickandbread.com, where he experiments with what he calls pleasure praxis.

Oliver enjoys very much going to concerts and listening to music. Concerts he liked a lot: The Dirty Three, Total Control, Faith no More, The Mars Volta, Black Rebel Motorcycle club, Primus, The Butthole Surfers, Mark Lanegan, Jon Spencer Blues Explosion, Alice Donut, Cat Power, C.W. Stoneking, Twenty Miles, North Mississippi Allstars, Tex Perkins, Primal Scream, Oogga Boogas and T-Model Ford- among many others. Since he lives in Melbourne he is spoiled by its amazing music scene and goes to concerts as much as he can. Who knows, maybe one day he will be able to see Tom Waits!