VISUAL COMMUNICATION PRACTICE
Roderick Grant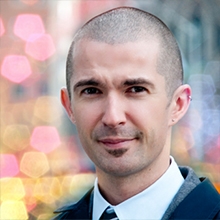 Roderick Grant is Co-Chair and Assistant Professor of Graphic Design at OCAD University where he teaches in both undergraduate Graphic Design and graduate Interdisciplinary programs. He holds an MFA degree in Graphic Design from the Rhode Island School of Design, and a BA in Urban Studies from New College of Florida. While at RISD he studied with Jan van Toorn and Martin Venezky; drawing inspiration from two radically different approaches to design practice. He continues to practice critical graphic design through simonjames, a design partnership with his wife Michelle Grant. His ongoing research on radical design pedagogies and processes seeks to challenge thresholds between design disciplines, dimensions and practices.
Roderick is currently working on several critical book projects that look at urban form and development as reflective of social and political agendas; as top down engineering and bottom up empowerment. Other current activities include lectures on the future of design practice; moderated panel discussions on design an materiality; a book proposal on colour theory and pedagogy to Routledge, UK; a trip to Hawai'i in December 2012 to speak at the AIGA National Design Educator's Conference; and ongoing writing for the National Conference on the Beginning Design Student.
No works curated in year 2016.

Curators & Editors 2016
VISUAL COMMUNICATION PRACTICE