CRITICAL WRITING
Sam Burch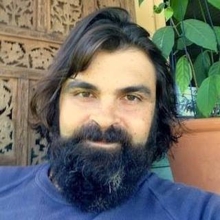 Dr Sam Burch
is a writer, teacher, and independent researcher in the area of food
policy and Food Sovereignty.
He holds a PhD from the University of Queensland and has taught in
Creative Writing and Literary Studies at various institutions since
2008. He is a supporter of the Brisbane Aboriginal Sovereign Embassy,
dances with the Marrinyama aboriginal group, and is
an active campaigner for the rights of First Nations peoples. His first
novel,
The Naked Vine, is a contemporary story of initiation set in the
mountains of south-east Queensland's D'Aguilar Range, which explores the
politics of food production and spiritual connections to land, through
the central character's experience of an ancient
and sacred plant medicine.
No works curated in year 2016.

Curators & Editors 2016
CRITICAL WRITING