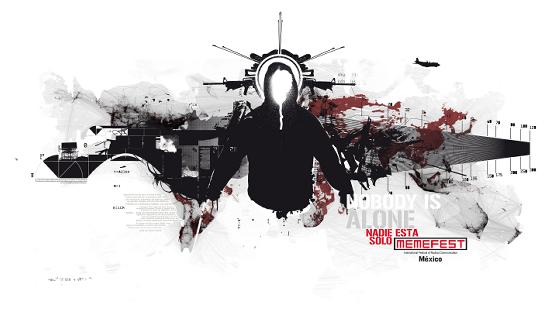 Convocar, discutir, debatir, experimentar y sentirte cercano al otro son acciones necesarias para crear nuevos puentes de comunicación.

Memefest México tiene como objetivo congregar para discutir juntos temas que a todos nos interesan y preocupan como sociedad y sobre los cuales todos tenemos una postura.

Nadie está solo, las conexiones son bastas en el mundo, las sociedades evolucionan, las culturas se enorgullecen de si mismas, la cultura latinoamericana resiste a los embates de la globalización cada vez más ligada a intereses económicos; México resuena en el mundo comparándose con problemas similares que existen en otras partes; gran parte de Latinoamérica es considerada como el tercer mundo, dando con esta etiqueta una razón a la falta de oportunidades que otras naciones catalogadas de primer mundo gozan para su desarrollo humano. Es así que decimos, desde México, nadie está solo, todos estamos conectados.

Si quieres participar ayudando a Memefest México/ Latinoamerica contáctate con nosotros al correo hector@memefest.org y así ayudemos juntos a crear una sociedad responsable, preocupada y comprometida con los problemas sociales.

Pronto más noticias.
Comments

ABOUT MEMEBLOG
Hey, welcome to the official Memefest blog!

Since 2003 we have been using a blog platform as tactical media to reflect, critique, comment and inform around the broad field of communication. Now in 2010 with our newly conceived on-line platform we hope that through time this space will evolve in a collaborative blog media with a wider group of contributors to the global discourse around social responsibility of media and communication. Stuff that you can find here is either original or carefully and originally edited from other sources.  There is a good chance that you will find things that will be of good use for you too if you follow us more regularly.

Of course we look at Memeblog as a dialogic platform. Your comments are encouraged and mostly welcome.

If you feel like collaborating in this: drop us a line: memefest at memefest dot org.