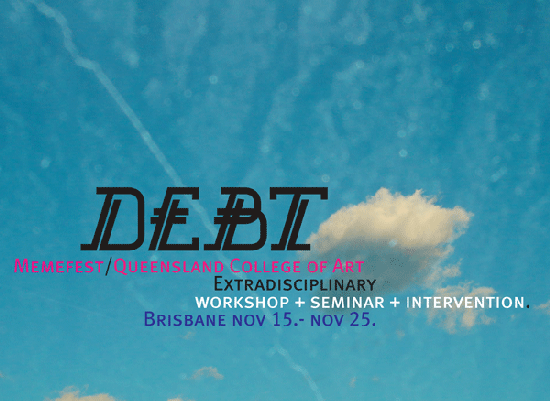 We are happy to announce the framework for this years special Memefest workshop. A few more weeks to go and we will meet in Brisbane.
Bellow you can find information regarding the event. More will follow soon.

GOALS: The workshop/seminar aims to research DEBT and its hidden effects in current Brisbane. It seeks to create a process that will help us to develop knowledge necessary to understand possibilities for imaginative critical interventions. As reality resists knowledge, intervention is necessary.

Our goal is also to contribute to the development of a local scene engaged in critical theory and practice, reflecting public effects of communication/design, art and education, connecting the university with bold non-institutionalised counter cultures and initiatives.

The event is part of the first Memefest/ Queensland College of Art Award for Imaginative, Critical intervention and was initiated by the collaboration of Memefest- International Festival of Socially Responsive Communication and Art, the Design department and the postgraduate research office at QCA.

FORMAT: The attendance is by invitation. The ten-day event will be based in Brisbane at the Queensland College of Art and will happen between November 15th and November 25th. Mentors facilitate the workshop part; groups with 5-7 participants will be formed. The seminar, in the first two days, will frame the problem and research field. Daily sessions of collaborative group work will be held from 10h am-16h pm, with one hour break. Longer work is of course possible. Workshop will include a day trip around Brisbane and work on various locations related to DEBT. An online pre preparation will include individual preliminary research. During workshop QCA production facilities will be used. Workshop(S) will be documented. A publication, which will include workshop process and results, is planned in early 2013. Outcomes will also be published on www.memefest.org and www.designfutures.com.au after the workshop.

CONCEPT: Debt has become a major instrument of social control. Millions are enslaved through debt, and indebted life has become naturalised. Debt has become the primary mechanism that takes power from the people and gives it on to the hands of the rich and powerful. But debt is rarely questioned. Its moral obligation is culturally embedded. It is shaming and therefore unspeakable. Its power lies in its violent normalcy.

If public communication design and art are to play a relevant role in shaping a future worth having, we need to further redirect, reinvent and reimagine our own understanding and the way we think, theorise and practice them both. DEBT is not only an opportunity to do so, but also an urgent responsibility.

Through Memefest's process DEBT was researched in and outside of the University environments in thirty-five countries. It was the first serious investigation on DEBT from a communication perspective.

The workshop/seminar will be the next step. The face-to-face gathering, the extradisciplinary dimension that brings marginal, critical, countercultural positions in relation with established institutions promises an intense process. This time we will focus on one place- the city of Brisbane. As Queensland's capital and the third biggest city in Australia, Brisbane plays a major role in the region's economy. While DEBT is a technique through which individual and collective subjectivities are governed and controlled, its image is officially related to freedom and progress. The workshop will explore these contradictions and ways to expose them in the public sphere.

While most interventions end up in aestheticized gesturalism, what we are interested in, is stepping out of the private self in which persons are formally enclosed and a split from the social order that imposed that particular type of position in the first place.

We believe that four main steps are necessary to achieve a change in the logic DEBT creates. First: knowledge that acquires agency. Second: interventions that create a rupture in the order of things with the goal to redefine our fields of experience and the relationship between being, doing and saying. Third: dialogue. Fourth: creating new emancipatory social institutions.

Let's see how far we can get this time.

See you all soon!




Comments

ABOUT MEMEBLOG
Hey, welcome to the official Memefest blog!

Since 2003 we have been using a blog platform as tactical media to reflect, critique, comment and inform around the broad field of communication. Now in 2010 with our newly conceived on-line platform we hope that through time this space will evolve in a collaborative blog media with a wider group of contributors to the global discourse around social responsibility of media and communication. Stuff that you can find here is either original or carefully and originally edited from other sources.  There is a good chance that you will find things that will be of good use for you too if you follow us more regularly.

Of course we look at Memeblog as a dialogic platform. Your comments are encouraged and mostly welcome.

If you feel like collaborating in this: drop us a line: memefest at memefest dot org.