nikolajanovic
9 years, 3 months ago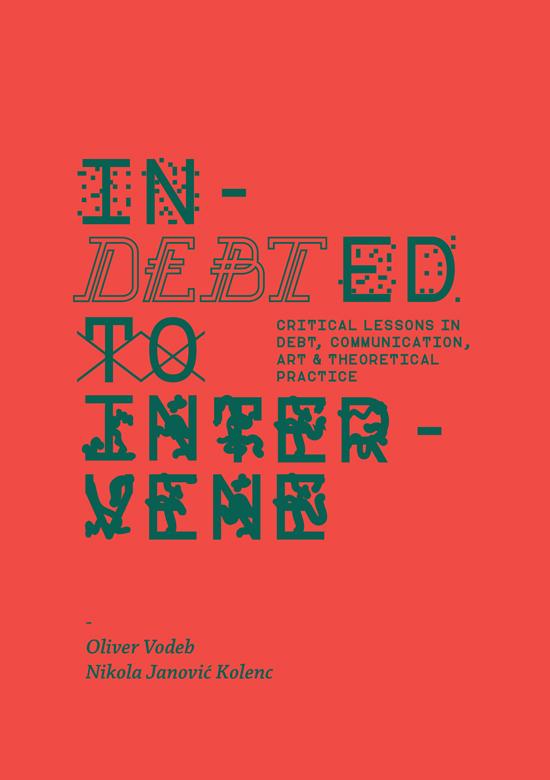 U ediciji Interventions, u izdanju Memefesta i Queensland College of Art - Griffith University, izašla je nova knjiga InDEBTed TO INTERVENE, Critical Lessons in Debt, Communication, Art and Theoretical Practice.

InDEBTed TO INTERVENE, Critical Lessons in Debt, Communication, Art and Theoretical Practice je knjiga koja kroz prizmu kritike, komunikacije, dizajna, umetnosti i teorijske prakse pristupa problemu duga. Knjiga je rezltat jednogodišnjeg rada Memefest kolektiva koji je prošle godine još jednom sa vašom saradnjom uspešno odradio Memefestov festival na kome smo secirali aktuelno pitanje duga u našem društvu.

Danas je svima već jasno da je dug postao primarni mehanizam koji uzima vlast od ljudi i daje ga u ruke onog 1 %. Snaga duga leži u njegovoj nasilnoj normalnosti. Zato se dug danas retko dovodi u pitanje. Tokom globalnih protesta protiv mera štednje i finansijalizacijom društva, jedna stvar je postala jasna: dug nije pretnja kapitalističkoj ekonomiji. Dug leži u samom jezgru neoliberalnog projekta.

Knjiga počinje sa autorskim tekstovima na temu kapitalizma i duga. Autori su vrhunski stručnjaci, edukatori, kritičari i aktivisti iz Slovenije, Australije i SAD. Dugom preispituju iz različitih uglova - kroz javno komuniciranje, umetnost, dizajn, tehnologiju, političku ekonomiju, biopolitiku i pitanje nadzora, proteste, obrazovanje, konstitucije subjektivnosti, urbanog i virtuelnog prostora. Pored tekstova se u knjizi nalazi i medjunarodni izbor originalnih autorskih radova iz Memefestovog festivala 2012 na temu duga sa područja vizuelnih komunikacija, kritičkog pisanja i participativne radikalne umetnosti. Pored toga u knjizi možete naći vizualne radove, komentare učesnika i kustosa, kao i esej o seminaru / radionici / intervenciji koji su održani u Brizbejnu na Queensland College of Art, Griffith University u Novembru 2012, koji govori o specifičnom pristupu istraživanju i institucionalnoj kritici u kontekstu duga.

Pošto je jasno da dug definiše i upravlja naše živote, sprečeva nam da bi zajedno intervenirali i promenili društveni tok života, ova knjiga ima za cilj da pokaže da je vreme za velike promene. Vreme za promene je sad! Ukoliko želite više informacija, proverite sadržaj knjige i pročitajte uvod u knjig na našem webu http://www.memefest.org/en/indebtedtointervene/.

Uskoro će knjiga biti dpostupna i u pojedinim knjižarama regiona. Za sad knjigu možete naručiti preko našpeg weba sa plaćanjem preko Paypala. Sve upute se nalaze na desnoj strani ove stranice. Potrudili smo se da bi cena knjige bila što niža i zato dostupna što širem krugu ljudi. Knjiga ima 224 kolor strana, autorski sadržaj i atraktivan dizajn, zato je cena knjige 19 EUR. Znamo da je za nekoga puno, ali preprosto nižu cenu za ovakvu knjigu nismo mogli da postavimo. Urednici i kuratori knjige InDEBTed TO INTERVENE, Critical Lessons in Debt, Communication, Art and Theoretical Practice su Oliver Vodeb i Nikola Janović Kolenc, dok je dizajn odradio Rok Klemenčič.
Comments

ABOUT MEMEBLOG
Hey, welcome to the official Memefest blog!

Since 2003 we have been using a blog platform as tactical media to reflect, critique, comment and inform around the broad field of communication. Now in 2010 with our newly conceived on-line platform we hope that through time this space will evolve in a collaborative blog media with a wider group of contributors to the global discourse around social responsibility of media and communication. Stuff that you can find here is either original or carefully and originally edited from other sources.  There is a good chance that you will find things that will be of good use for you too if you follow us more regularly.

Of course we look at Memeblog as a dialogic platform. Your comments are encouraged and mostly welcome.

If you feel like collaborating in this: drop us a line: memefest at memefest dot org.