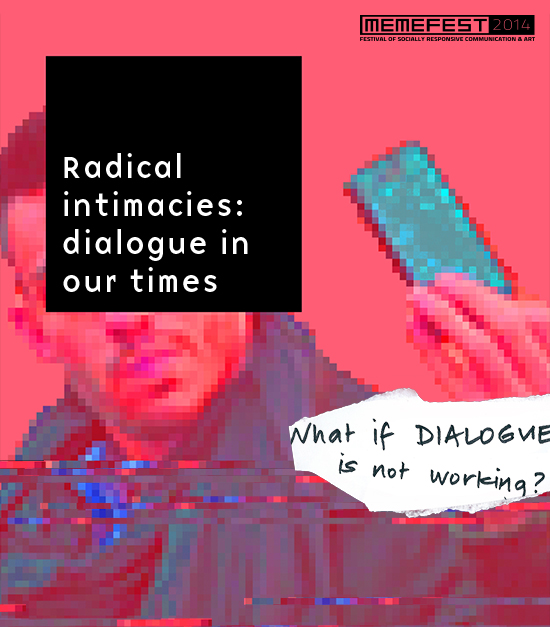 Dialogue is the crucial form of communication. It makes us able to communicate beyond differences and create common worlds. It puts the individual as well as the community in the centre of attention.

Dialogue is now important more than ever. But what has became of dialogue today? What influences most of the intimacy we are capable to create? What if we are witnessing a new phase of communication? And what if we could re-think how to approach dialogue today, with all it's difficulties and potentials because we still think that dialogue is the crucial form of communication and we still believe in its unmatched potential? How can we than design dialogue that would work?

Read more about the festival's outlines here: http://tinyurl.com/pddzgsp or go directly to the category that interests you the most and check them out here:

Visual Communication practice: http://tinyurl.com/o6zg7ap ,

Critical Writing: http://tinyurl.com/m4lvo4w

and the participatory art/communication category 'Beyond...': http://tinyurl.com/khnqls3

And check our special Awards here:

http://www.memefest.org/en/competition/awards_2014/

Deadline for Submission of your works is September 20th 2014!
Comments

ABOUT MEMEBLOG
Hey, welcome to the official Memefest blog!

Since 2003 we have been using a blog platform as tactical media to reflect, critique, comment and inform around the broad field of communication. Now in 2010 with our newly conceived on-line platform we hope that through time this space will evolve in a collaborative blog media with a wider group of contributors to the global discourse around social responsibility of media and communication. Stuff that you can find here is either original or carefully and originally edited from other sources.  There is a good chance that you will find things that will be of good use for you too if you follow us more regularly.

Of course we look at Memeblog as a dialogic platform. Your comments are encouraged and mostly welcome.

If you feel like collaborating in this: drop us a line: memefest at memefest dot org.