in collaboration with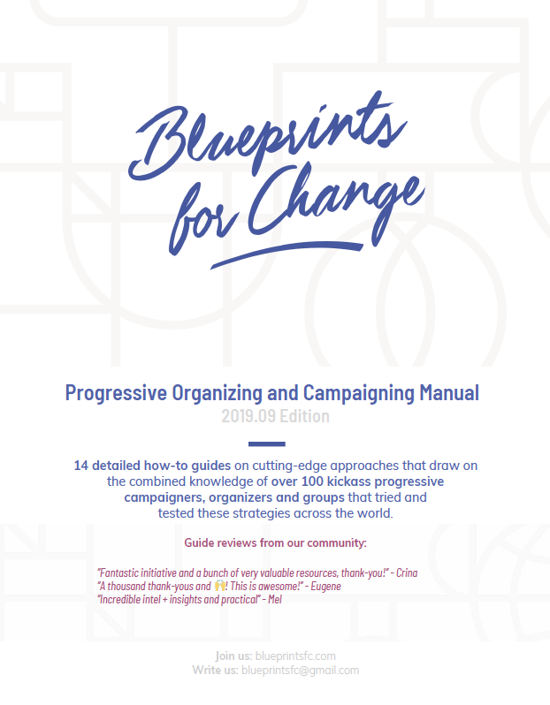 We're launching the first edition of the Blueprints for Change Progressive Organizing and Campaigning Manual, a culmination of two years' worth hard work from our core group of 20+ helpers and includes field wisdom from over 100 kickass organizers and campaigners who contributed.

A bit more promo before we get to downloading:

14 detailed how-to guides on cutting-edge approaches to progressive organizing and mobilizing
totaling over 180 pages
bakes in the field experiences and insights of over 100 progressive campaign innovators from across the world
FREE! And designed as a user-friendly PDF with easy internal navigation links

Download the Manual

Here is your direct download link for the Blueprints for Change Manual: Download the Manual right away as PDF (After clicking the link, check your downloads for the Manual PDF doc.)

https://tinyurl.com/sfap8uq

Share the Manual

We'd love it if you shared this manual with other progressive organizers and campaigners. When you do, please direct them to the Manual signup process here: Share this link for Manual promotion (We ask this to ensure that this manual circulates among progressives only as much as possible.)

https://blueprintsfc.org/manual/

And to make promo easier for you, we have compiled some descriptive text, sample tweets and Facebook posts here.

https://tinyurl.com/vlq3xwt

Hope this resource is a help to you and the communities you organize with,

Tom.
Comments

ABOUT OPENBLOG
Open blog is a collective blog agregator.  Posts that can be read and viewed here have been originally posted by members of the Memefest community.

While members of the community  are able to check blog posts from the circle of their comrades within the on-line profile, this is the place where you are able to check on everything that has been bloged by anyone on this platform. The toppics and styles are diverse as this community consists of people from very different cultural, social backgrounds and also very different fields of expertice. Together- and through time- we hope – this gives us a good picture of radical communication culture.