MY COMMUNITY BOARD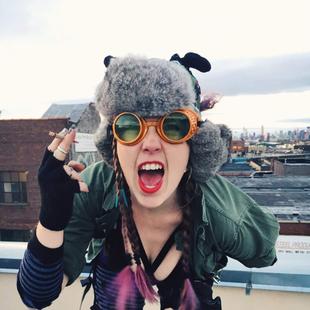 ABOUT ME
Username
mckate
---
Name
kate mcneely
---
Birth year
1985
---
Country
United States of America
---
Website
http://cargocollective.com/katemcneely
---
Description
Kate, who has trouble writing in the third person, can be called a lot of *things*. An artist, activist, accomplice, creative director, cultural worker, project manager, social change strategist, dreamer, policy nerd, storyteller, radical queerdo (faerie when it's warm out), media manager and grassroots organizer, phew. All of that just means she spends most of her time making art and causing that good trouble.
She works (and often lives) within various communities and cultures in what is called the "margins" of our country, making stories of resistance and resilience visible. Centering intellectuality and play, she builds spaces where folks gather and create. She believes deeply that if we show up as our fully complicated selves, culture is the brackish water of change and difference where we have the power to directly shape our future world.
---
I have joined the Memfest community becasue i am interested in
connecting with other activist artists around the world, expanding what research (and art as research) looks like for a decolonialized world.
---
Education
Public Policy
---
Working place
self (Free Floating Radical)
---
Collaborators
People's Collective Arts, Rising Tide
---