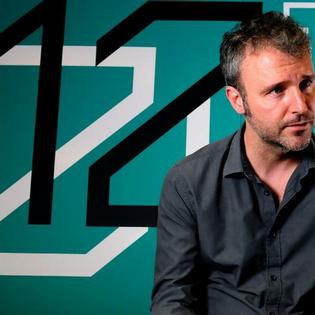 About me
Usernameoliver
Name Oliver Vodeb
Gendermale
CountryAustralia
Description
I am a member of Memefest Kolektiv, and curator, editor and facilitator of Memefest Festival of Socially Responsive Communication and Art.
I teach at the Design department at Queensland College of Art/ Griffith University, where I lead the Visual communication program.
I am co-founder and co-director of Poper Studio, for public communication.
I enjoy working in many different media.
Books I have published :
www.memefest.org/demonstratingrelevance/en
www.druzbenoodzivnokomuniciranje.si/
teaching:
http://goo.gl/wD8Ts
studio:
www.poper.si
CV: http://www.memefest.org/en/about/who_we_are_oliver_vodeb/
I have joined the Memfest community becasue i am interested in
I have been here from the very beginning. I am interested in socially responsive communication, visual communication, photography, visual sociology, media activism, street art, open source cultures.
Iam interested in how critical social theory can illuminate the complex processes of production, distribution and reception of public (visual) communication in order to generate public (visual) communication as a responsible social, political, economic and cultural practice.
I am particularly interested in relations between concepts of response-ability and communication effectiveness, and the social construction of design and other forms of pubic communication as profession, practice and praxis within academia, the market environments and non-institutionalised communities.
Faculty
was studiing at Faculty for social sciences University of Ljubljana
Education
PhD in sociology of communication and design
Working place
Queensland College of Arts and Poper studio
Music I like
Flamming Lips, Pixies, The Black Crowes, Demeter, Porno for Pyros, Fleet foxes, Ry Cooder, Junior Kimbrough, Townes van Zandt, T-model ford, The Mars Volta, The Dirty Three, Bonnie Prince Billy, Patrick Watson, Primus, Faith no More, Bob Dylan, RHCP, Alice Donut, Faith no more, Mark Lanegan, Reigning Sound;
Books I like
The unbearable lightness of being, A Confederacy of Dunces, Fear and Loathing in Las Vegas...;
Films I like
The man who wasn't there, No country for old man, Genova, Zidane a 21st century portrait, There will be blood, Il Postino, Festen, Straight Story, Wild at heart, White Ribbon, Dog tooth;
Communication projects I like
I like stuff we do at Poper studio. I like posters from Inkahoots. I like the zine project 23/56 from Kevin. I like many things that were submitted to Memefest, I like stuff from Cactusnetwork, I like the work of Image-shift.
Websites I like
poper.si, memefest.org, rebelart.net, magnumphotos.com, mubi.com, ubu.com, http://twotheories.blogspot.com, brianholmes.wordpress.com, www.lensculture.com, www.burnmagazine.org, www.bagnewsnotes.com, www.cactusnetwork.org.uk, http://www.image-shift.net, www.inkahoots.com.au/
People I like
My dear family and my wonderful friends.