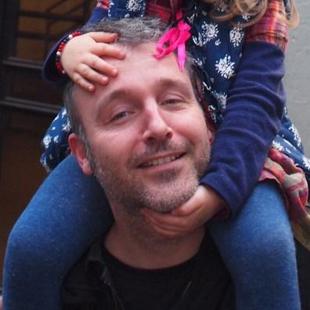 ABOUT ME
Username
oliver
---
Name
Oliver Vodeb
---
Gender
male
---
Country
Australia
---
Description
I am a member of Memefest communication/art/theory Kolektiv, and founder, curator and editor of Memefest Festival of Socially Responsive Communication and Art. Iam also facilitator of Memefest online social network.
I am an Academic at RMIT University, Melbourne. I teach and research mostly in the field of communication design. I approach design/communication from a critical inter/ extradisciplinary perspective and I investigate theoretical, strategic, conceptual and "hands on" practice.
I enjoy working in many different media including visual and text.
Books I have published :
http://memefest.org/en/fooddemocracy/
www.memefest.org/en/indebtedtointervene/
www.memefest.org/demonstratingrelevance/en
www.druzbenoodzivnokomuniciranje.si/
This was my studio in Slovenia (2004-2012): www.poper.si
CV (sort of): http://www.memefest.org/en/about/who_we_are_oliver_vodeb/
You can read some of my texts here:
https://rmit.academia.edu/OliverVodeb

---
I have joined the Memfest community becasue i am interested in
I have been here from the very beginning of Memefest. I am interested in communication/design for social and environmental change.
I name such communication socially responsive communication.
Broadly speaking I am interested in visual communication, photography, sociological aspects of communication, design and media.
Iam interested in institutionalised forms of communication like for example communication done by design/communication studios and advertising agencies as well as non institutionalised forms of communication like tactical media or broader aspects of media activism.
In a slightly more academic language:
I am interested in how critical social theory can illuminate the complex processes of production, distribution and reception of public (visual) communication in order to generate public communication as a responsible social, political, economic and cultural practice.
I am particularly interested in relations between concepts of response-ability and communication effectiveness, and the social construction of design and other forms of pubic communication as profession, practice and praxis within academia, the market environments and non-institutionalised communities.
---
Faculty
was studiing at Faculty for social sciences University of Ljubljana
---
Education
PhD in sociology of communication and design
---
Working place
RMIT University, School of Design, Master of Communication Design
---
Music I like
Flamming Lips, Pixies, The Black Crowes, Demeter, Porno for Pyros, Ry Cooder, Junior Kimbrough, Townes van Zandt, T-model Ford, The Dirty Three, Bonnie Prince Billy, Primus, Faith no More, Bob Dylan, RHCP, Alice Donut, Faith no more, Mark Lanegan, Reigning Sound, Total Control;
---
Books I like
The Unbearable Lightness of Being, A Confederacy of Dunces, Fear and Loathing in Las Vegas, PanikHerz...;
---
Films I like
The man who wasn't there, No country for old man, Genova, Zidane a 21st century portrait, There will be blood, Il Postino, Festen, Straight Story, Wild at heart, White Ribbon, Dog tooth;
---
Communication projects I like
I like stuff we did at Poper studio. I like posters from Inkahoots. I like the zine project 23/56 from Kevin. I like many things that were submitted to Memefest, I like stuff from Cactusnetwork, I like the work of Image-shift.
---
Websites I like
poper.si, memefest.org, magnumphotos.com, mubi.com, ubu.com, http://twotheories.blogspot.com, brianholmes.wordpress.com, www.lensculture.com, www.burnmagazine.org, www.bagnewsnotes.com, www.cactusnetwork.org.uk, http://www.image-shift.net, www.inkahoots.com.au/
www.lokidesign.net
---
People I like
My dear family and my wonderful friends.
---