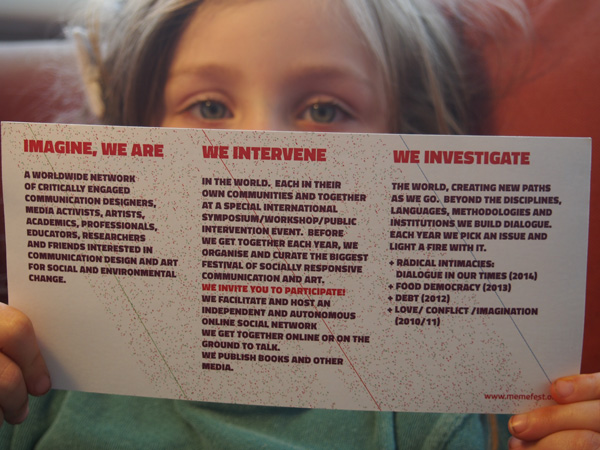 Memefest Kolektiv
Imagination/Intervention/Investigation
Memefest Kolektiv is interested in creating situations that have the potential to engage people in transformative social relations through communication, design and art. We are based in Slovenia and Australia. The loose Kolektiv enjoys its many different roles and integrates education, curatorial and editorial work, publishing, investigation, organization of events, facilitation and production of various media including communication in the public sphere, theory, photography, design and art. We work in both- physical and virtual public space and usually like to connect them.
The most known project we create (almost) every year is the International festival of Socially responsive communication and art with its Friendly Competition.
Other projects include publishing of books, public interventions, conferences, symposia, workshops and lectures;

Memefest network: Memefest Kolektiv collaborates with a wider network of people from around the world. Most of this collaborators are part of the network for many years and play a significant role in Memefest's operations.
THE FESTIVAL PART:
The "Festival of Socially Responsive communication and Art," nurtures and rewards innovative and socially responsible approaches to communication.The festival is encouraging students, professionals, artists, researchers, educators, activists and anyone interested in socially beneficial communication to contribute their talents to the process of changing the very logic of public communication and is designed as a tactical educational and communication media.Since 2002 Memefest has facilitated the creation and curation of thousands of works from more than sixty countries (which can be found in the many festival online galleries) and awarded dozens of works in the fields of theory/critical writing, visual communication practice and participatory art for social and environmental change.It fostered the creation of knowledge and practice of many significant communication/design approaches like tactical media, culture jamming and socially responsive communication/ design and art. The Beyond... category award started in 2003 and is the first award for participatory art.
Memefest departs from the principle that there is too much talent and knowledge being wasted in (commercial) communication practices that benefit only private interests while harming the wider society. We disagree with the belief that marketing based communication is the only way how to solve communication problems in the public sphere. We do acknowledge though the need for commercial interests to be communicated, however we see the dominant form of commercial communication- Advertising- as a medium that has not been yet fully developed and could ideally connect commercial benefit with social responsibility: Socially Responsive Advertising. But of course, different representations wont solve the problem alone. Advertising as institution would have to be redirected as well.

Our main interest however is in communication for social and environmental change that goes beyond the logic of reproduction of capitalism. Memefest therefore nurtures and rewards communication approaches and practices that exceed marketing communication (including social marketing!), propaganda, public relations and other media practices that produce and reproduce hierarchical power relations in our societies.
Communication we are interested in is focusing on response-ability. Socially responsive communication works towards dialogue or establishes conditions for dialogue. It does so in different ways and many submissions from almost sixty Countries that came to Memefest in the past years did this in a innovative and inspiring manner.
We believe that GOOD communication WORK is based on three main principles:
1.excellent in quality
2.socially responsible
3.meaningful for its practitioners
* More info on this here

This is also one of the reasons why our community is founded upon and nurtured by the hope for change. Together, we can explore how socially beneficial ideas and communications approaches can be created and effectively practiced in the public sphere.
The Festival grew fast. We connect people from more than sixty countries and have established a new international scene engaged in Socially responsive communication and art. We are closely collaborating with people, networks, institutions like Universities and research centres, social movements like Occupy or autonomous groups like the Brisbane Aboriginal Sovereign Embassy.

The room in Ljubljana, where work on Memefest started in 2001.
The naked dude on the photo on the wall is Iggy Pop, performing in Ljubljana: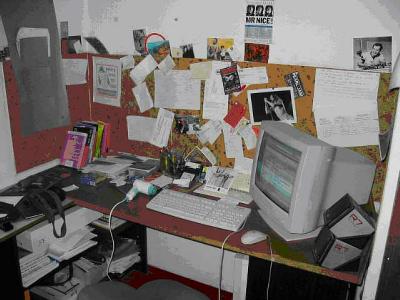 THE COMMUNITY PART:
In the age of Facebook we are on a daily basis facilitating a growing autonomous international online based network of members interested in social change through various uses of communication and art, for which we have created the necessary online network environment- completely free of any embeded commercial exploitation and surveilance and are also providing all necessary server space. Through this we are creating an alternative public space, enabling a unique autonomous public engaged in the development of communication and art for social change, to collectively work on a future worth having.
Memefest is completely independent. It operates as a intermediary non formal institution and connects very different spheres as academia, creative professionals, artists and activists from around the globe. We do not depend on anyone but on our selves. This is so from the beginning in 2002 and will remain so also in the future. Being independent means that we don't operate in the realm of compromised solutions, but are able to work without pressure of the market and follow high criteria of quality and independent communication practice, research, writing and education.
Just to mention that, in addition to our global bases in Slovenia and Australia we have during time established local Memefest groups, namely Memefest Brazil, Colombia, Mexico and Balkan. We are open for your ideas and collaboration from around the world.
Subvert, Create, Enjoy!
*******
Read about Memefst on P2P Fundation