VISUAL COMMUNICATION PRACTICE
Jason Grant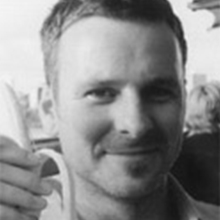 Jason Grant is a director of Inkahoots (http://www.inkahoots.com.au). The Brisbane based studio began as an artist run, community access screenprinting collective, and fifteen years on, continues to hustle for social change as a visually adventurous graphic design practice.

Jason has studied fine art and design, and taught typography, design and art theory. He speaks at numerous national and international design conferences and universities. Inkahoots' work is widely published around the world. Jason recently returned from a sabbatical in London where among other things he art directed and wrote for Eye magazine.
No works curated in year 2016.

Curators & Editors 2016
VISUAL COMMUNICATION PRACTICE