MOBILIZATION
Katie Bush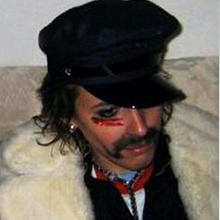 Known throughout the world as '
America's Favorite Lady
', Katie Bush is a San Francisco-based digital/installation artist whose work is strongly influenced by consumerism, the business of war, social (in)equality and the on-going cleanliness of chemically-treated suburban carpet areas. She received an MFA in New Genres from the San Francisco Art Institute and has been exhibiting globally since 1993. Her work (such as www.destroyevil.com) has been featured in
BoingBoing
,
Rhizome
,
Dazed & Confused,
Art XX
and
The British Medical Journal.
She is currently a UX Designer at YouTube/Google and is a founding member of the experimental performance collective 'Authority Office', (est. 2005) producing music, art and video exhibitions in Tokyo, Berlin and the USA.
No works curated in year 2016.

Curators & Editors 2016
MOBILIZATION