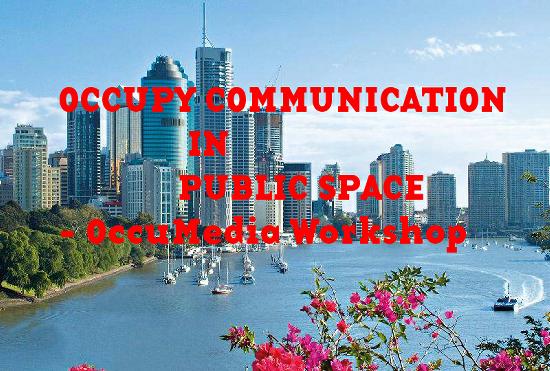 MEMEFEST, in conjunction with OCCUPY BRISBANE and The Free University of (Occupied) Brisbane Presents:

OCCUPY COMMUNICATION IN PUBLIC SPACE:
Response-Ability, Socially Responsive Media and Communication Workshop

Participants will include members of the Brisbane Memefest Collective, members of Occupy Brisbane Media Working Group and other participants or supporters of Occupy Brisbane.

Place and time:

Brisbane City Council Library Community Meeting Room
9am-5pm on January 11.


The purpose of this workshop is to collectively analyse the past OB communication approaches and tools and discuss strategies and tactics that might be useful for OB in the future. Concepts, concrete ideas for communication tools should be discussed and worked on as well.

Discussion and creative process should include:

1. Internal communication of OB
How can OB use communication in order to organise and communicate as a group?

2. Media situation in Brisbane.
What are past media appearances and representations of OB in media? What is the image of OB that we would like to see? Discussion about OB public communication goals.

3. Media strategies.
How to approach/ work with media and journalists? What was done in the past, what are the problems and what the opportunities?

4. Public communication/intervention strategies.
Defining concrete goals- what and how to communicate, whom to address, which issues to open?

5. Designing the tools.
Words, Images, Processes, Technologies



ps: all are welcome. If you would like to propose things to this workshop agenda, feel free to do it.


Comments

ABOUT MEMEBLOG
Hey, welcome to the official Memefest blog!

Since 2003 we have been using a blog platform as tactical media to reflect, critique, comment and inform around the broad field of communication. Now in 2010 with our newly conceived on-line platform we hope that through time this space will evolve in a collaborative blog media with a wider group of contributors to the global discourse around social responsibility of media and communication. Stuff that you can find here is either original or carefully and originally edited from other sources.  There is a good chance that you will find things that will be of good use for you too if you follow us more regularly.

Of course we look at Memeblog as a dialogic platform. Your comments are encouraged and mostly welcome.

If you feel like collaborating in this: drop us a line: memefest at memefest dot org.