It was a highly intensive and creative process that happened from November 15th to November 25th here in Brisbane. An Event- Workshop/Research Seminar/Public Intervention on DEBT as part of the first Memefest/Qca Award for Imaginative critical intervention.
DEBT was our theme for almost a year. The importance of critically researching DEBT can hardly be exaggerated. DEBT has become a major instrument of social control. Millions are victims of DEBT, and indebted life has become naturalised. DEBT has become the primary mechanism that takes power from the people and gives it on to the hands of the rich and powerful. But DEBT is rarely questioned. Its moral obligation is culturally embedded. It is shaming and therefore unspeakable. Its power lies in its violent normalcy.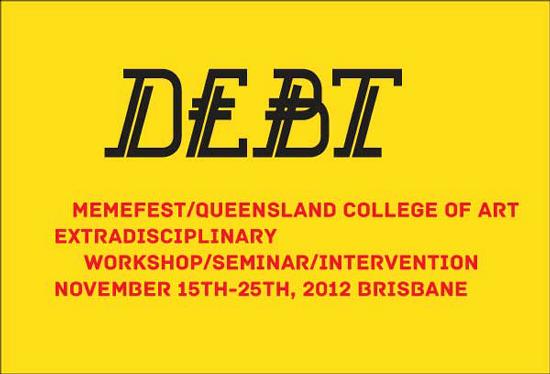 First Memefest/Queensland College of Art extradisciplinary workshop/seminar/intervention, here in Brisbane, happened in late November. We invited a diverse international group to research DEBT further for ten days, to learn about it in relation to Brisbane and to intervene. The collaborators, participants, curators, mentors and conspirators were Ashlea Gleeson, Jack Loel, Darcy Mangan, Belinda Li, John Nicholson, Emma Bergman, Anna May, Charles Mayfield, Jordan McGuire, Yeuk Nam Lee, Elliot Crombie, Manfred Huber, Ben Mangan, Eleni Kalantidou, Ivan Kozenitzky, Vladimír Turner, Soeren Rosenbak, Zoe Yakimoff, Melanie Gupta, David Sargent, Jason Grant, Tony Fry, Anne-Marie Willis, Shaun Cruickshank, George Petelin and Oliver Vodeb.
Through Memefest's process DEBT was researched in and outside of the University environments in thirty-five countries. Our aim was to develop a thorough investigation on DEBT from a radical design + communication perspective. The process was largely inspired by David Graeber's book DEBT, The First 5000 Years.
The workshop/seminar/intervention was the next logical step after we finished the online global frinedly competition. The face-to-face gathering, the extradisciplinary dimension that brings marginal, critical, countercultural positions in relation with established institutions promised to be an intense process. Participants came from different countries and cultural backgrounds- students, researchers, professors, professionals, activists and artists. Many of us were connected through both the Memefest and the QCA (Design Futures) network formally and/ or informally. Some of us were already friends, and some were about to become.
The context of the event tried to break down certain established relations. The student/ professor relation was changed as the context became informal and the process situated outside the regular curriculum. Memebers of the community and radical social moveement groups became equal part of the process. The relationships to our institutions were productively questioned and limitations for our work have been explored. The relationship to our disciplines needed to be rearticulated in the light of breaking out of them and connecting with the extradisciplinary- marginal, countercultural positions outside of disciplines and institutions. Above all this was an opportunity of collaboration and self organisation.
This time we have been focusing on one place- the city of Brisbane.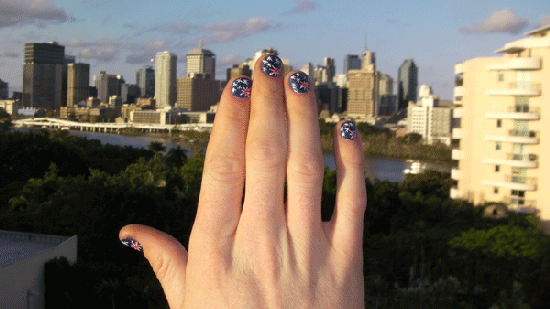 As Queensland's capital and the third biggest city in Australia, Brisbane plays a major role in the region's economy. While DEBT is a technique through which individual and collective subjectivities are governed and controlled, its image is officially related to freedom and progress. The workshop aimed to explore these contradictions and ways to expose them in the public sphere. While most interventions end up in aestheticized gesturalism, what we were interested in, is stepping out of the private self in which persons are formally enclosed and a split from the social order that imposed that particular type of position in the first place. An intimate encounter with DEBT. An intimate encounter with each other, our institutional contexts and with our selves. This, as we learned, can be very difficult.
As part of the working concept we have framed four main steps that are in our opinion necessary to achieve a change in the logic DEBT creates. First: knowledge that acquires agency. Second: interventions that create a rupture in the order of things with the goal to redefine our fields of experience and the relationship between being, doing and saying. Third: dialogue. Fourth: creating new emancipatory social institutions. Here you can read and see what we have done. The ten days have been designed as a focused semi/structured event. First there was a two day intensive theory/practice seminar. This was followed by field research, a tour around chosen DEBT related Brisbane suburbs. Four groups worked on concrete interventions that culminated in three bigger projects and several smaller once.
Participation was by invitation only; The whole process was mentored by George Petelin, Anne – Marie Wilis, Jason Grant, Tony Fry and myself- Oliver Vodeb. Three awardees: Ivan Kozenitzky, Vladimir Turner and Søren Rosenbak, recipients of the first Memefest/ Queensland College of Art Award for Imaginative Critical Intervention were invited and flown in to Brisbane. Other participants were our great QCA students, engaged members of the local Brisbane community, as well as- surveillance studies scholar Dr Mark Andrejevic from University of Queensland, visual communication lecturer/tutor from University of Ballart, Ben Mangan (who also worked with his students on DEBT) and Southbank Tafe lecturer/ tutor Manfred Huber.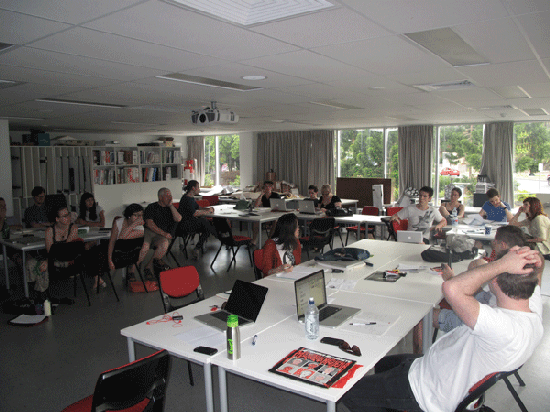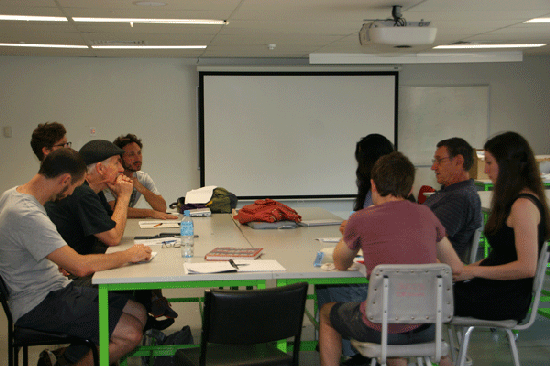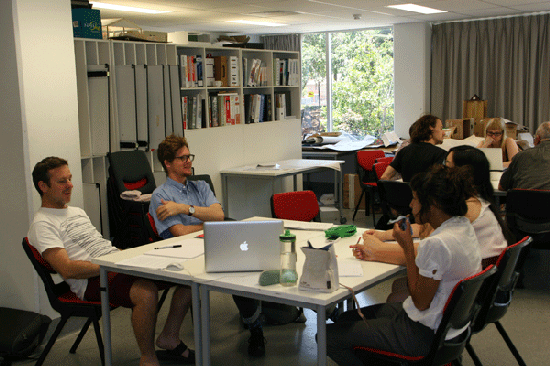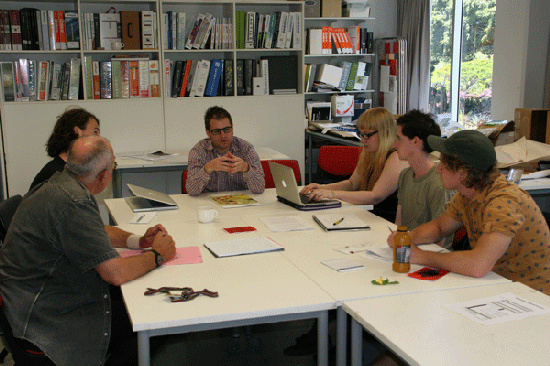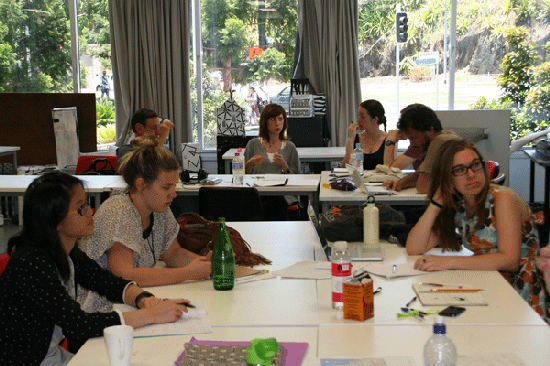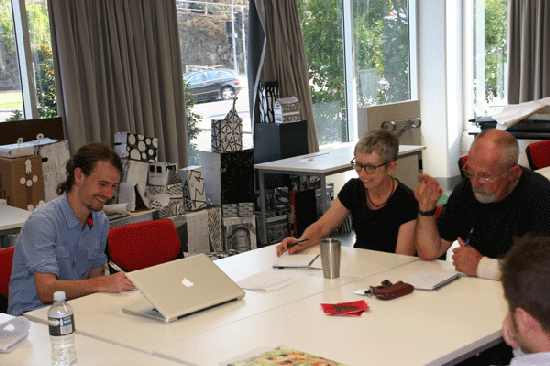 The process started a while ago. Through Memefest, DEBT was approached from a communication perspective. DEBT was the theme, the problem, the concept and the 2012 festival outline. Workshop/Seminar/Intervention participants have worked on the issue of DEBT in class and in the peer reviewed Friendly competition process - many of them in relation to assignments within the QCA Visual communication program. So, we were already quite prepared.
An online preparation phase followed partly through discussion, partly through readings and documentaries. The first two days have been devoted to theoretical investigations of DEBT and presentations from awarded and curated projects submitted to Memefest. Accompanying discussions helped to frame our focus. Here you can read the whole program with lectures, presentations etc.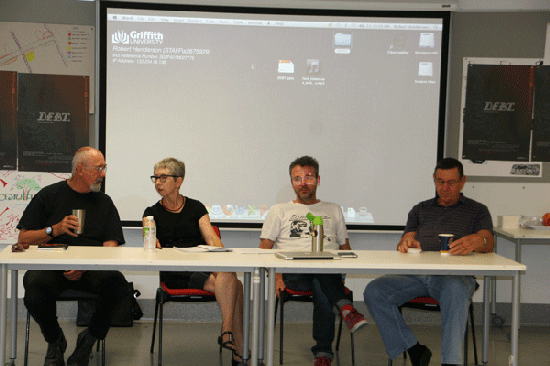 (Discussion- Indebted to Intervene: Tony Fry, Anne Marie Willis, Oliver Vodeb, George Petelin)
As we aimed for intervention in the public space, we needed to learn more about the city. Brisbane's wider area has a population of more than 3 million and it covers a huge area, one of the biggest of any cities in the world. Through its strategies of urbanisation the city is channelling the regimes of capitalisation in to its centres. If we look in to the suburbs, besides the economic project, the social and political dimensions of urbanisation are highly interesting. Suburbs are being made through debt. Suburbs are being made through private debt. There is a fantastic dimension of social control involved in this. It is a fact that indebted homeowners don't go on strike. It is also a fact that the biggest debt related profits are being made by credit card lending and subprime mortgage lending to the poorest people who don't live in the urban centres or some of the cool suburbs. This is a technique similar to the World Bank and IMF who get 3rd world countries caught in a web of debt from which they can never escape, paying interest so high that they have little or no money left over for essential functions.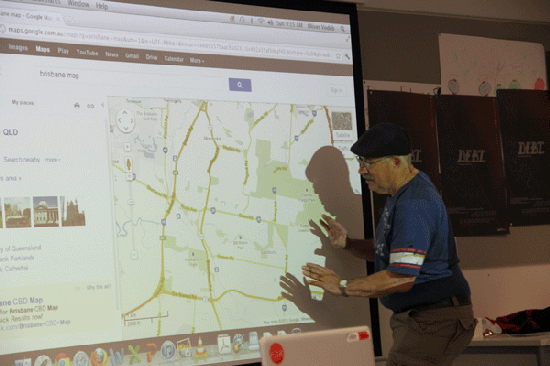 Manfred Huber planing the Brisbane trip
The strategies of urbanisation go hand in hand with the macro economical strategies and corporate business strategies. Capital needs to control urbanisation, as urbanisation is the result of class power in action. Urbanisation also includes manifestations of communication. Most of Brisbane's suburbs are characterised by low levels of community participation, relative isolation and sprawl. The city is characterised by a lack of the urban. Most of the suburbs are lacking of a centre or squares and public places as cafes or restaurants are mainly in shopping malls. Many of the places demand the car as the mode of transport, which- accept in the commercial/shopping areas- prevents strangers to meet other strangers- one of the key characteristics of a city. It necessarily contributes to a depoliticised individualism as there are almost no nodes for free interplay and urban interaction based on common interests. Politics can barely happen. Connect this to the Australian/Queensland media situation- a hyper commercialized and monopolised media sphere- and think about the logic of the public sphere.
Memefest/QCA awardee, architect Ivan Kozenitzky described Brisbane as a non-place. The term coined by Marc Augé in his work Non-Places: Introduction to an Anthropology of Supermodernity (1995) refers to places of transience that do not hold enough significance to be regarded as "places". Examples of a non-place are a motorway, or a hotel room, an airport or a supermarket.[1] This of course can't be applied simply to Brisbane as a whole, as the city has wonderful, living and interesting places and also critical subculture that is partly rooted in the resistance of its troubled oppressive history.
Still, (non) places like poor Capalaba and Rocklea, or the fancy tourist central Brisbane attraction Southbank- especially good in continuously erasing its own history though a mix of surveillance, imposed hyper order, discipline, spectacle and sterility- seem to be perfect in maintaining the rule of DEBT. What we also observed is a high level of electronic surveillance, a huge amount of rules/ communicated through warning signs and a somehow internalised and cultured following of rules (and at the same time - interestingly- a tendency to break small rules) among many Brisbane residents.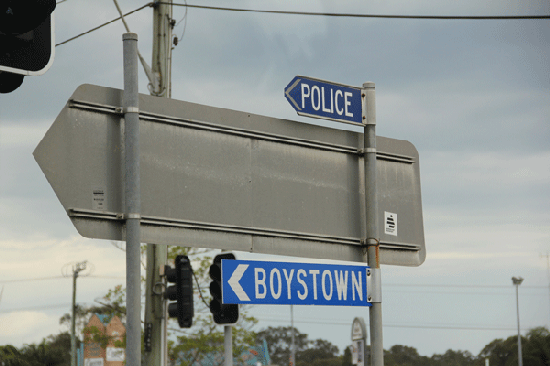 Besides the mentioned suburbs we investigated also Dutton Park, Moorooka, Salisbury and Manly; Moorooka with its African community seemed to be the most interesting and it worked as a public space with its main street and some informal visual communication, while Dutton Park and Salisbury did not show spatial agency. Here we have to be careful- as we are aware that a short- although- informed trip around Brisbane's suburbs brings necessarily only partial insights. It is hard to read the space without being connected to the communities. However some things can be read. We were looking for places that are strongly affected by DEBT. Some of the places- living areas, poor places have a particular DEBT logic. Structurally, by principle people are the most affected.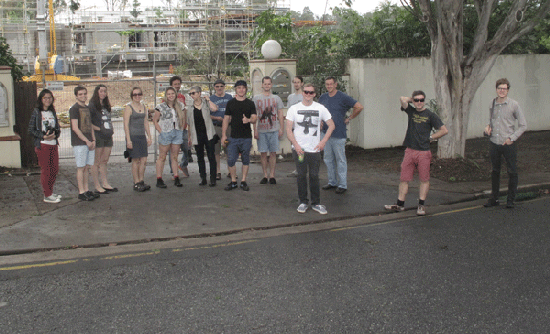 Dutton Park...the team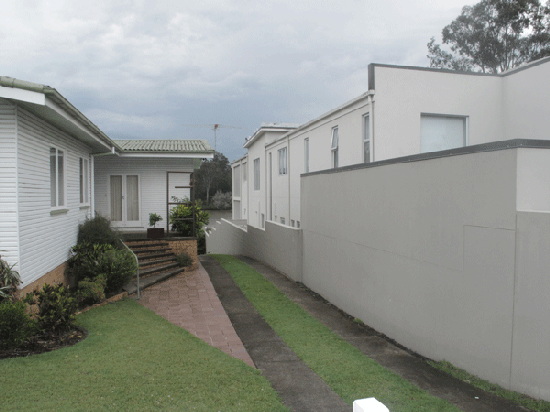 Dutton Park- micro regulations of space
Dutton Park- new rich places (we dont know if payed through DEBT) and older workers cottage on the left. The place is close to the centre and just at the river and therefore quite attractive.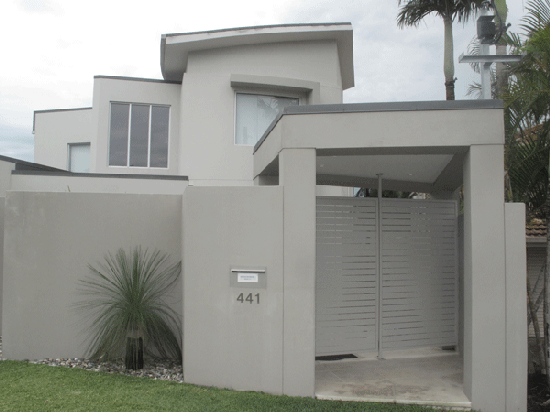 Dutton Park- look at the plant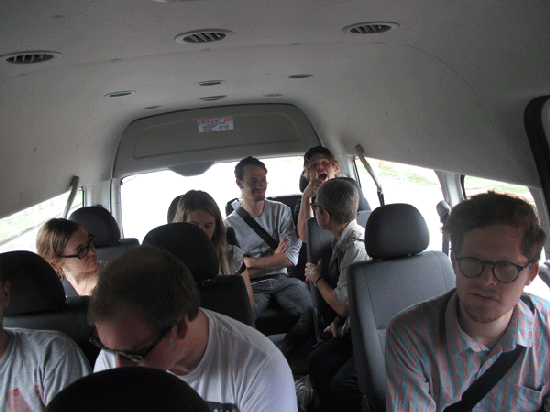 The tour bus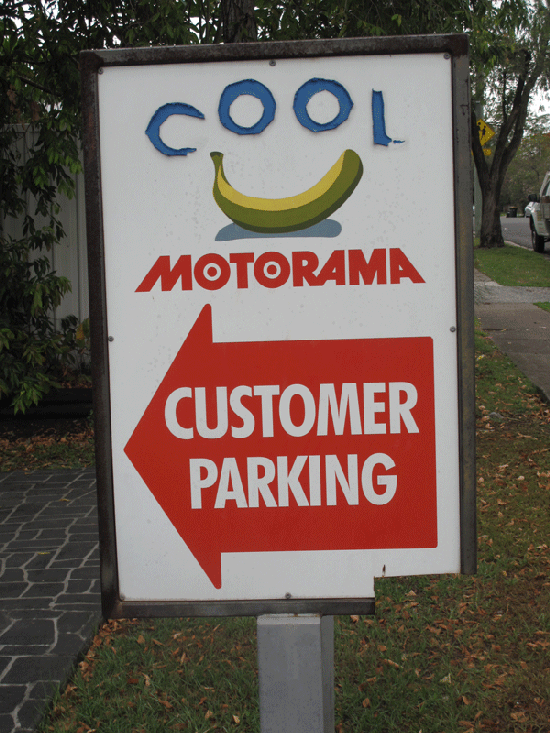 Some of us thought the peeling "Cool" sign actually looked really cool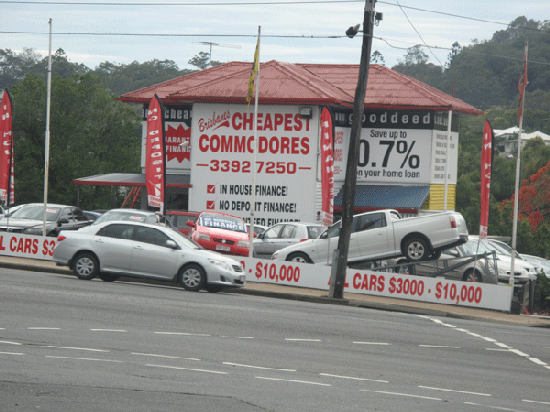 Moorooka- the golden mile- cars, cars, cars...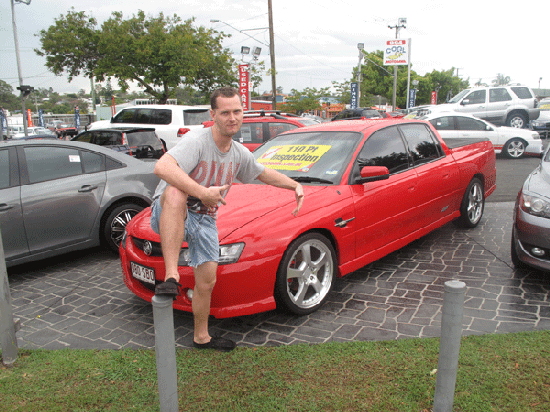 Memefest/QCA Awardee Vladimir Turner and his dream car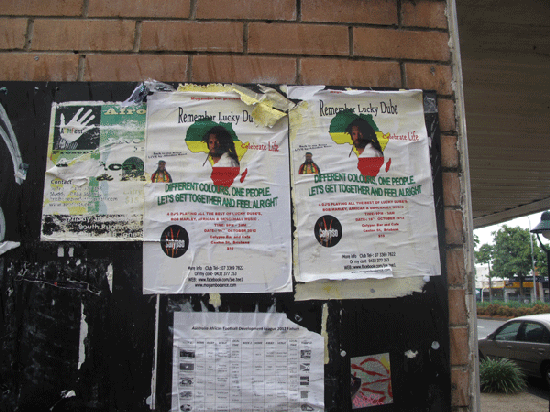 Moorooka - public announcement board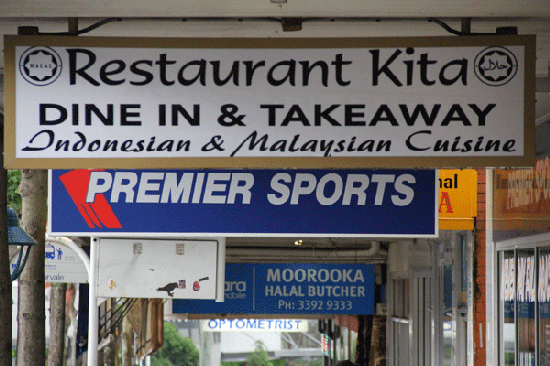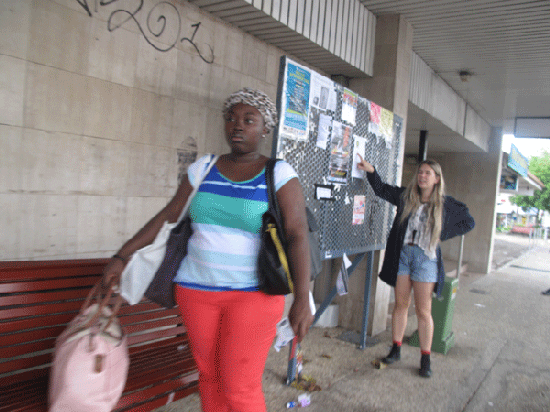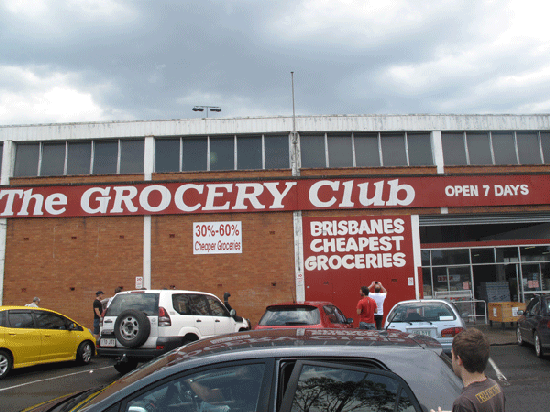 Above and bellow: Rockleigh- "cheapest Brisbane groceries". In fact a shop that sells expired food. Some of us wanted to cook a meal and give it to the bankers but we cooked a Gulash at home instead. It was good, the bankers would like it.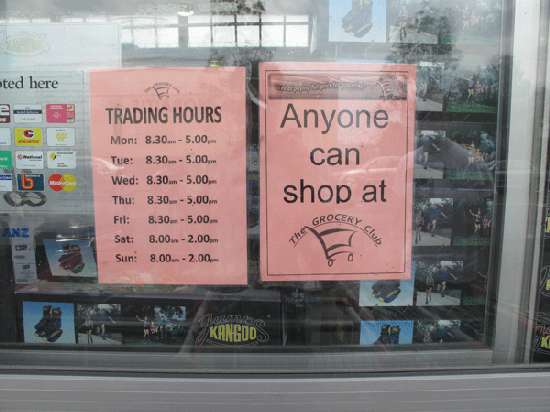 Anyone can shop at the expired food shop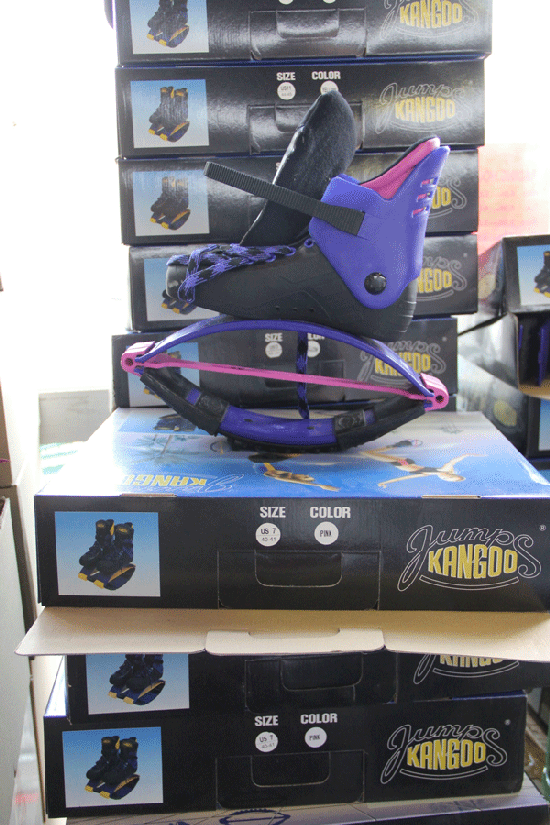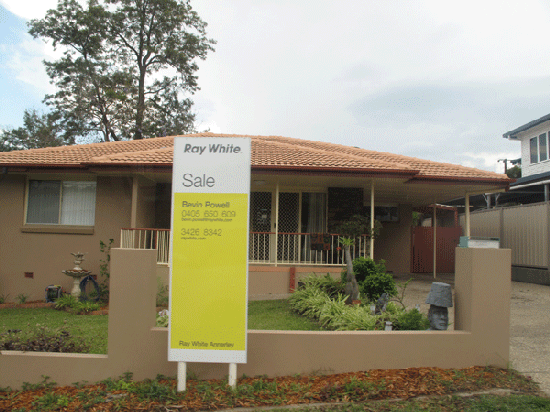 Salisbury- real estate market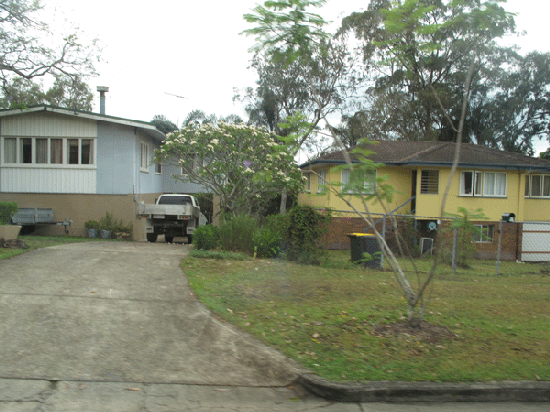 Salisbury- for most of European circumstances this would be quite luxury living- in term of the material space.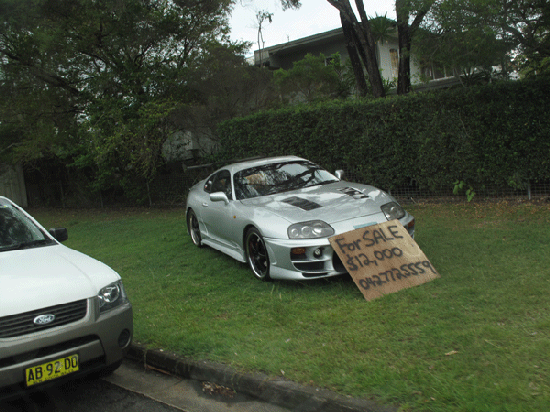 Salisbury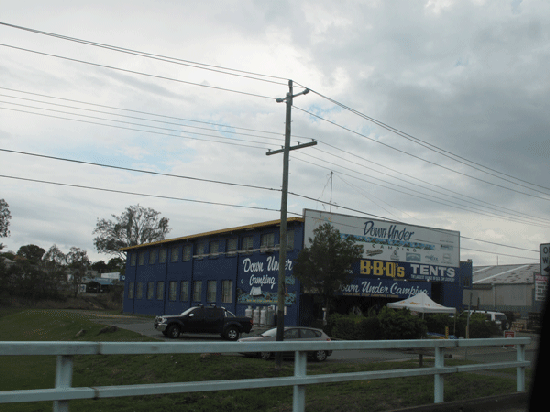 Down Under- BBQ and Tents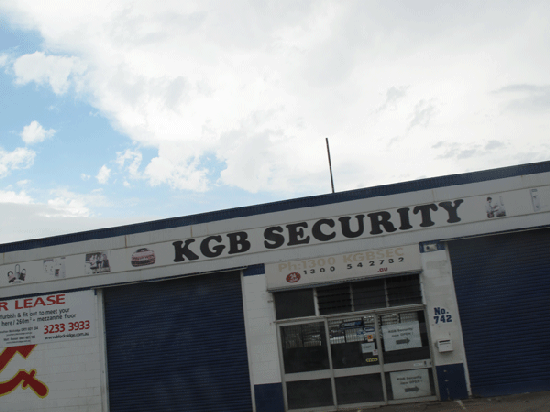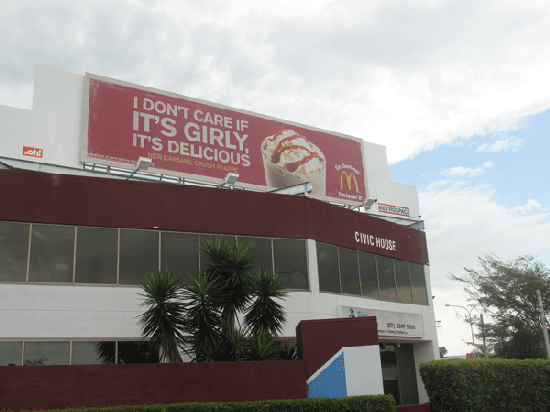 I dont care if it's Girly, It's delicious. For taugh boys and girls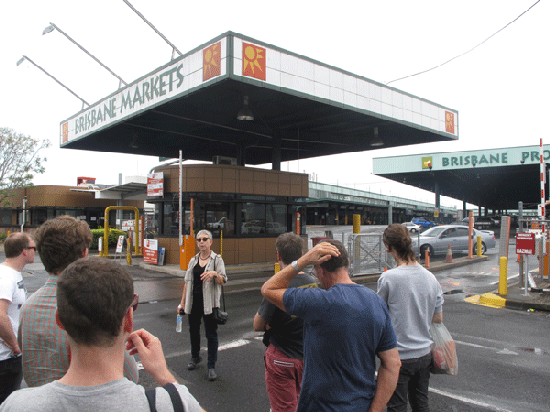 Anne Marie explaining the logic of local production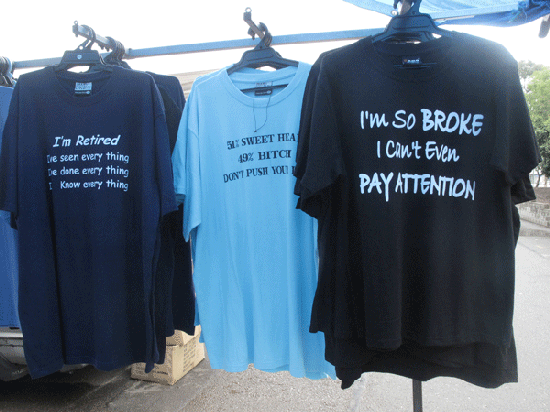 Flea market Rockleigh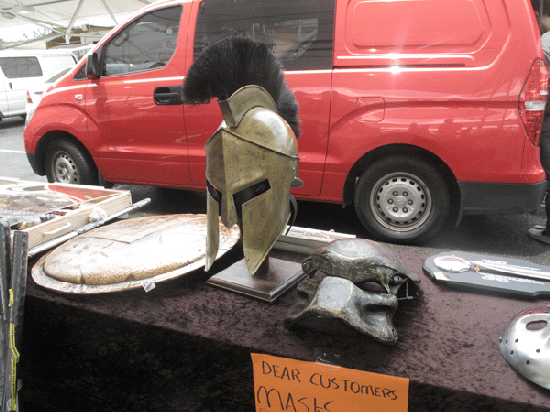 It got a bit strange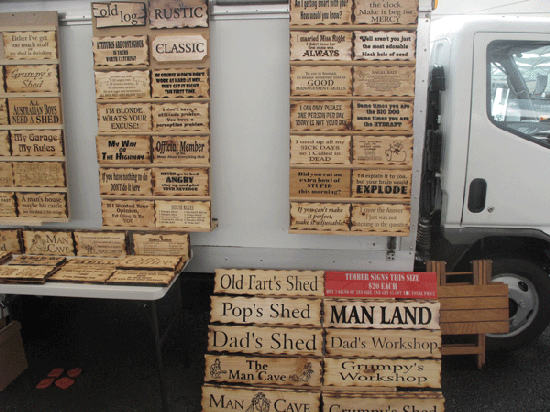 And stranger...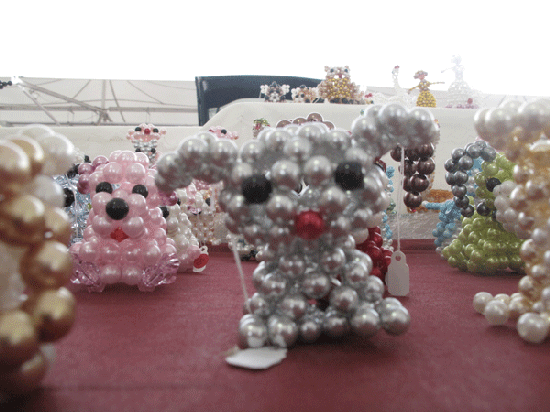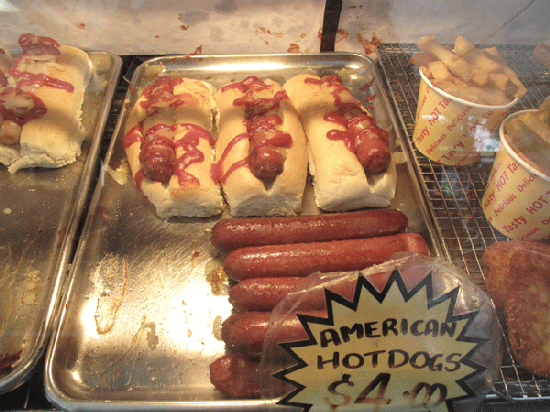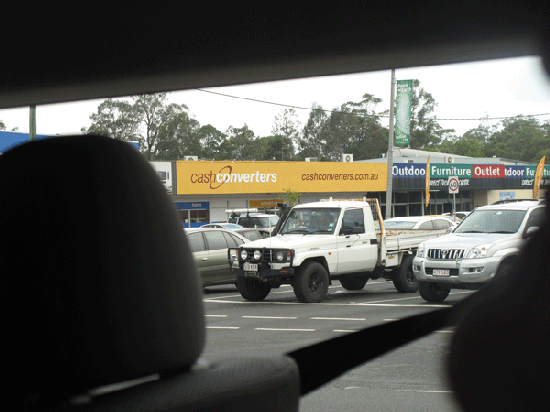 Capalaba for example has the most "Cash converters" – places where one can sell stuff to get quick – small money.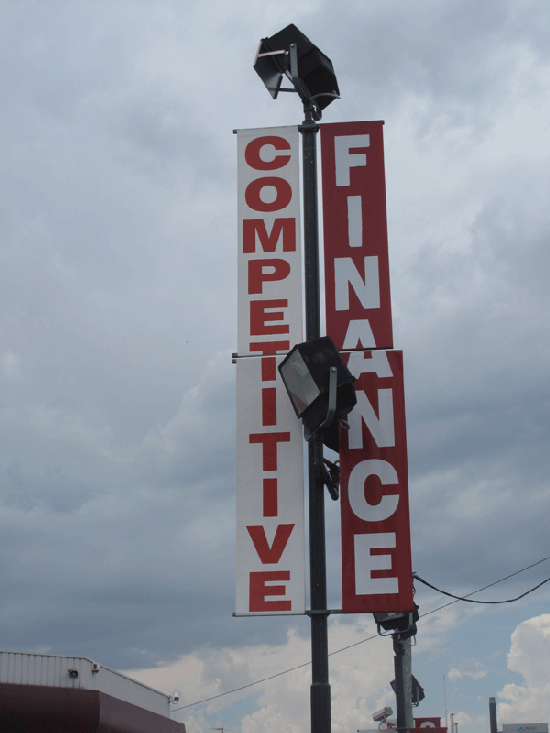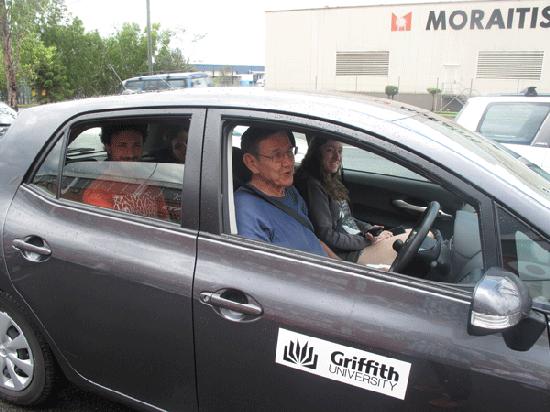 George Petelin, Emma, Ivan and John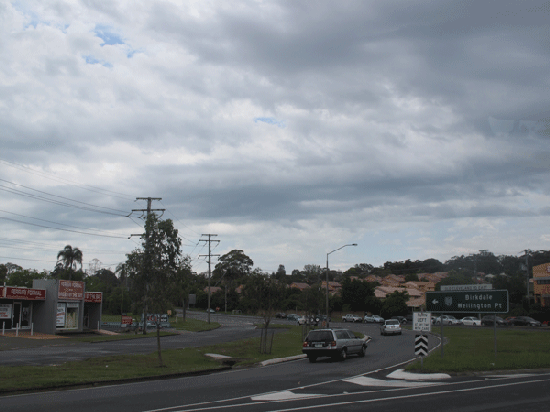 Suburbia, in between shopping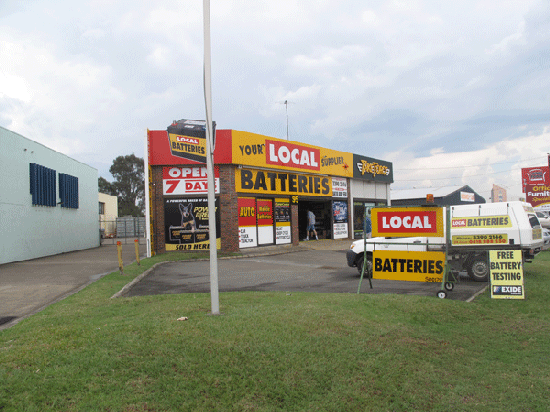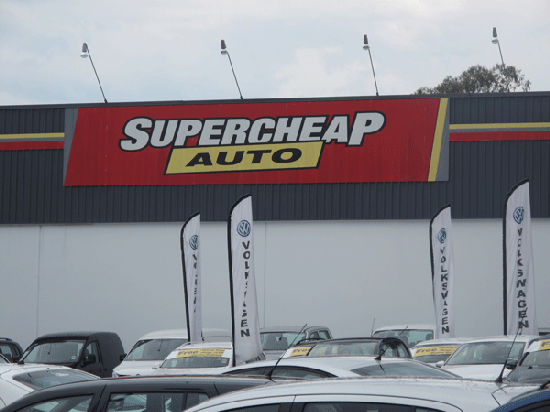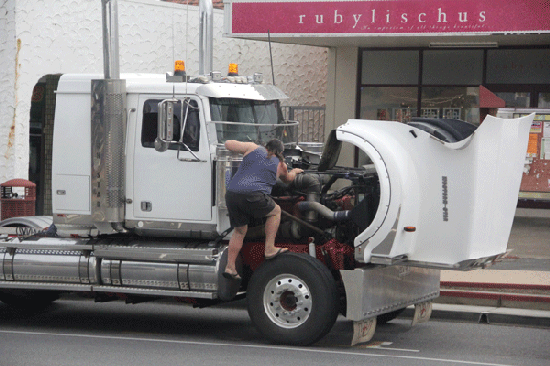 It was a highly interesting trip. Also for many of the Brisbane locals. But it was difficult to think about interventions. (Non) Places were big. Difficult to get in touch with people outside of designated commercial areas.
Participation is key and the public has a right to participate for very pragmatic reasons. The idea that not only the affordances of physical environments are changed by development, but that human experiences are proscribed and defined in doing so is elaborated by Henri Lefebvre and David Harvey. Harvey argues that the right to the city 'is a right to change ourselves by changing the city. It is, moreover, a common rather than an individual right since this transformation inevitably depends upon the exercise of a collective power to reshape the processes of urbanization' (Harvey, 2008).
We were interested in public qualities- communicative potentials where space would get agency in the sense that an agent could affect change by empowering others through communicative action, enabling them to relate to space and their environments in new ways, in ways not previously available or not known to them. We were interested in intervening in public space, in the dynamics through which space gets negotiated, contested, constructed. Where intersections between what Anthony Giddens calls mutual knowledge and discursive consciousness could be created and then taken further in to a living spatial interface mediated by dialogic communication.
But first, intervention needs to happen, as conditions for dialogue are not given.
The three groups worked on various levels and choose different approaches that informed and designed their socially responsive communication. The creative process was guided by a specific curatorial process that worked as a "cultural context provider" as well on a level of direct selection and creative guidance.
The first group: DEBTOSCOPE
We discussed debt in detail, and all agreed that it is important to speak to the emotional side of debt in order to engage people with the topic. Therefore we tried to think of questions we could ask the public - we originally narrowed it down to: 1. Suburb you live in 2. How does debt hurt you? 3. What do I really owe? These questions aimed to explore the amount of desire felt for creating a standard of living versus the amount of anxiety the person felt.
Our first approach was to create a pyschogeographic map from these responses. After discussing these questions in more depth, we decided that people would be more likely to respond to our question on the street if we only asked them one. We then narrowed it down to asking simply, "How does debt hurt you?" Instead of simply approaching people on the street with a brochure or a clipboard, we began to brainstorm ways in which we could engage the public. This was when the idea of the Debtoscope was created.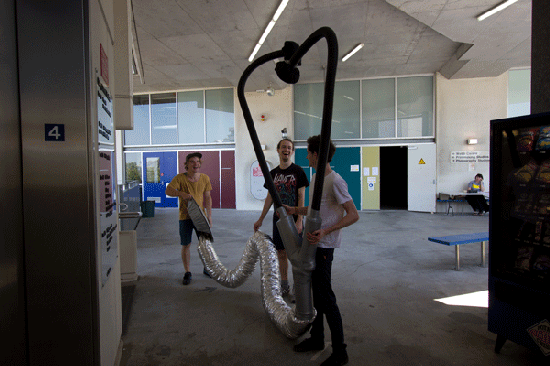 The Debtoscope is a giant stethoscope, which plays on the metaphor of doctors healing problems. It also plays on the idea that we need to investigate the SCOPE of DEBT.
The idea was that we could approach people on the street and try to heal their problems with debt by creating discussion around the topic of how debt hurts them.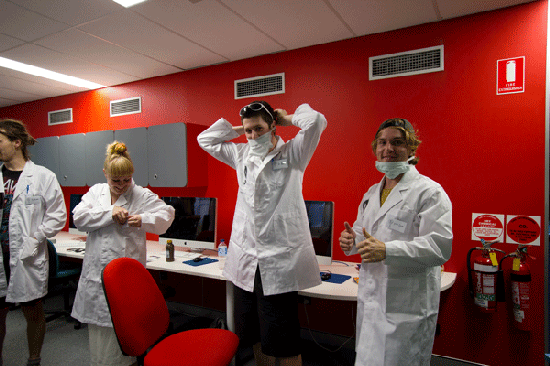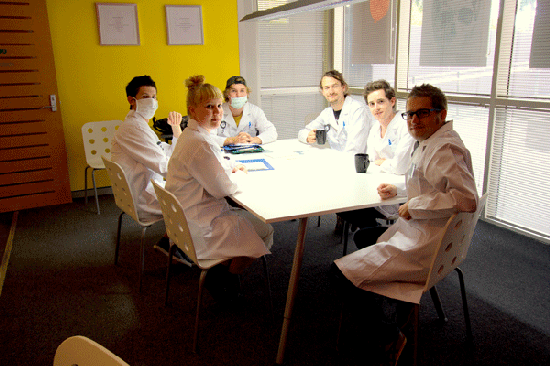 The DEBT doctors' meeting- Ashlea, Jordan, Elliot, Soren, John, David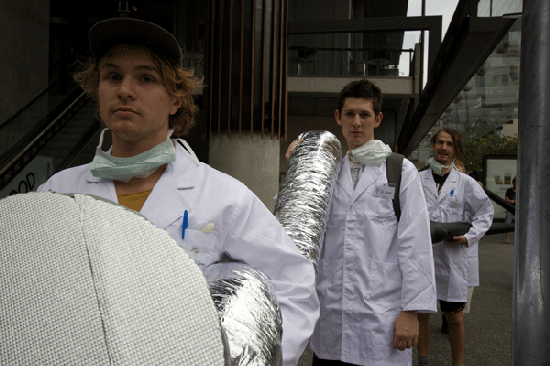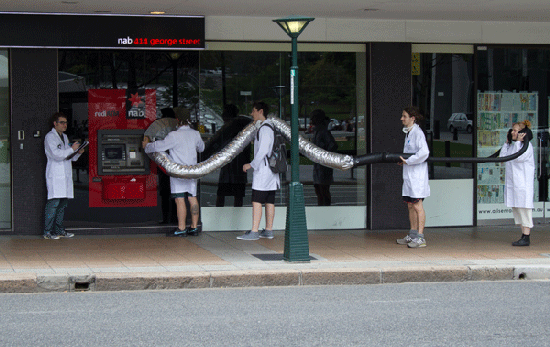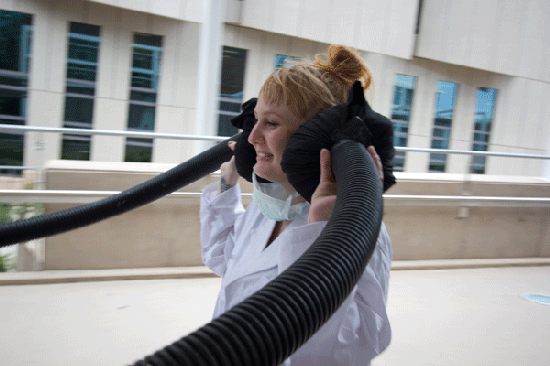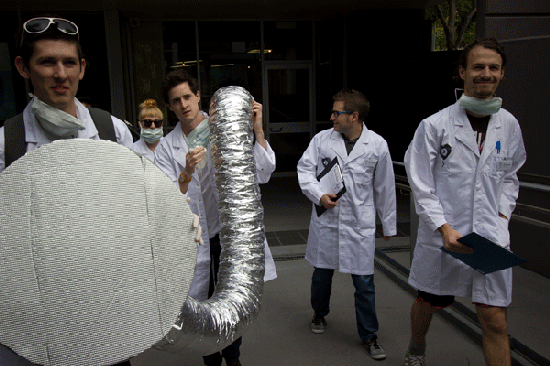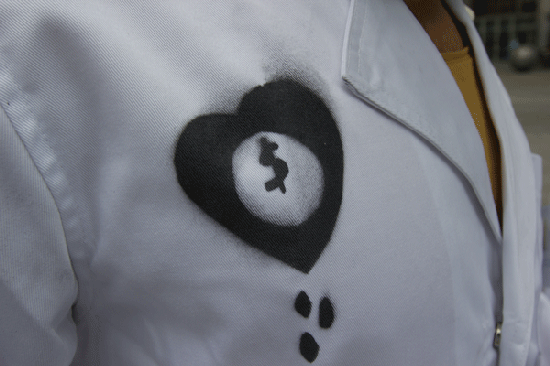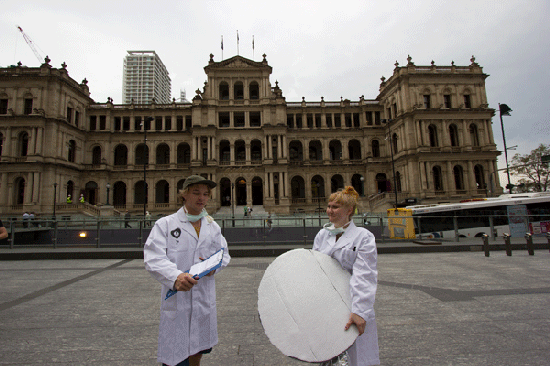 Infront of Brisbane's Casino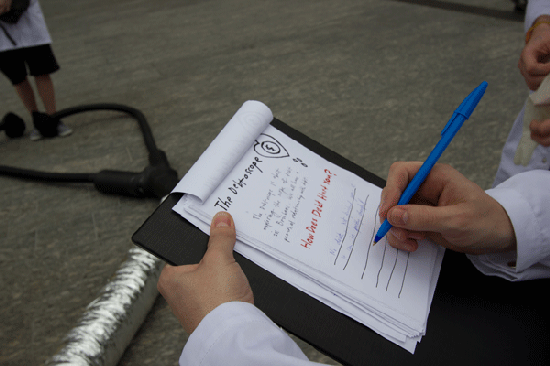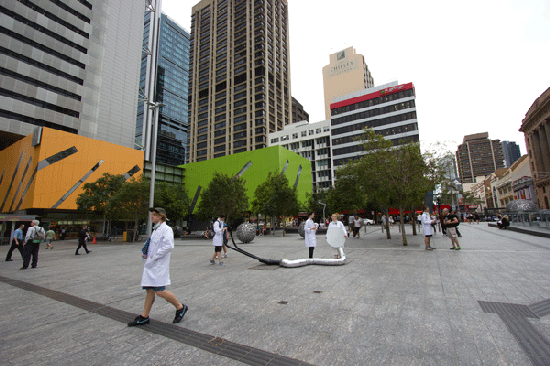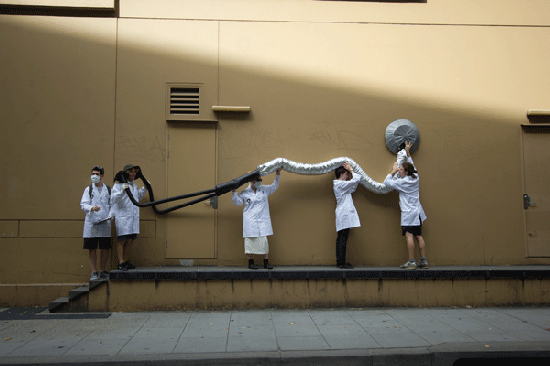 Some answers we got from people:
I'm always thinking about it. I have loans and credit card debt, it's like a cloud that always hangs over your head.
I feel so depressed seeing people at the pokies.
Debt where they chase you, that's bad, I have that.
I have a huge debt to my parents that isn't financial.
Right now, I have -$11 dollars in my bank account. I have never told anyone about this, even my family. I took out $24,000 in a loan and I lost it all in a scam. I don't want to look like a fool.
I'm behind in life, simply because I have a nice car.
Being in debt and not being able to get out of it is terrible for anyone. Financially, people are struggling everywhere. I only have mortgage debt and student loan debt. We calculated that, with regular payments, we will be paying our student loans off until both our kids are at university. That kind of hurts
Concept 2#– Bandaid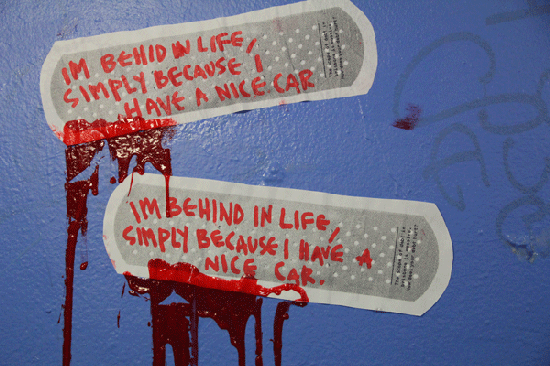 We also wanted to find a way to represent these answers in a way that could potentially engage people beyond putting them on the internet. Our solution fit in with the metaphor of being a physician, and we decided that we should try to make the city bleed and cover it with the answers from the public. We thought that this also fit in well with the idea that us asking the questions, and putting up the posters is actually a bandaid solution to the problem and may have had no real affects. Although it is hard to gauge how much impact our posters would have on people.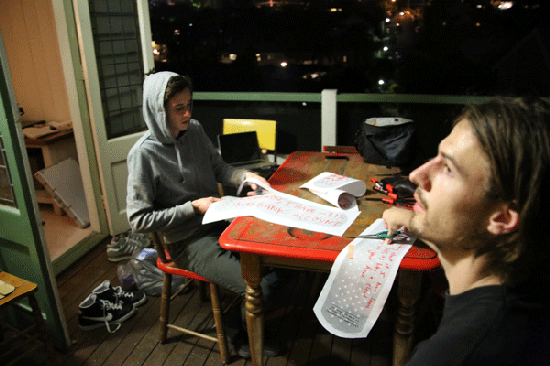 Jack Loel and Soren Rosenbak cutting posters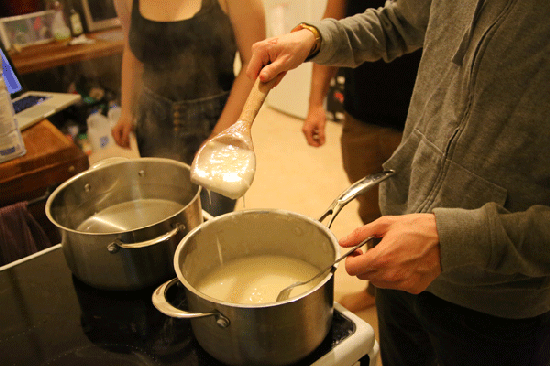 Cooking glue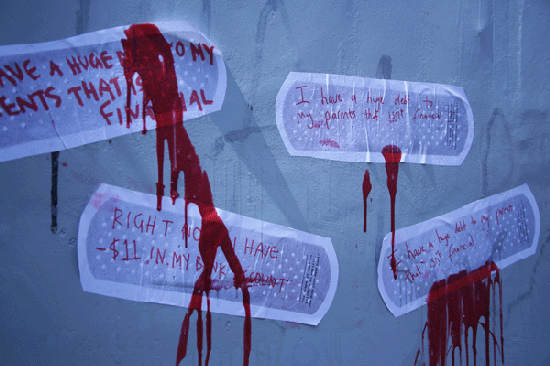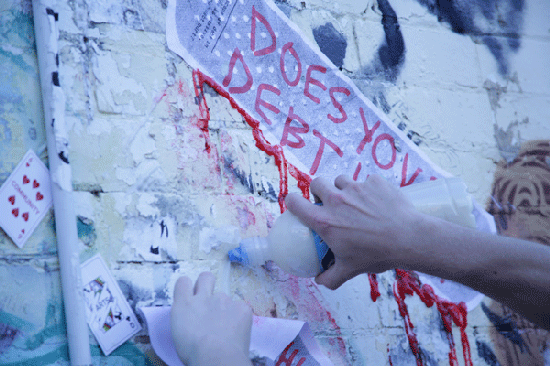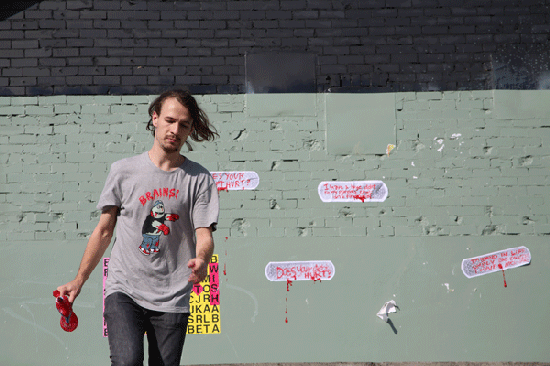 Soren Rosenbak
We make Assholes human again group
The second group was working on several things. One was a poster and sticker campaign. Somehow inspired by the difficulties of a intervention related to surveillance and control the group was also working on a fake intervention, that could in principle generate a viral effect. And there was a number of projects done in a rather poetic manner by Vladimir Turner with a little help from his friends.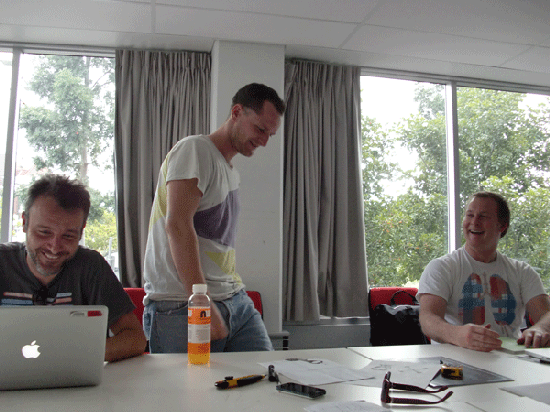 Oliver, Vladimir and Ben
Exploring debt and morality, sin, life and death this group has decided to translate this relations to the poster and sticker medium. Two posters playing with the words "Debt/Death Sentence" and "Debt/Death wish" were created. Working on the concept of participation as well, the posters invite the audience to decipher its many multilayered messages while supporting the rhetoric word- play with concise textual arguments. For some the posters, with the many letter combinations and colour relations were a bit psychedelic.. And almost like a pin ball mind game. :)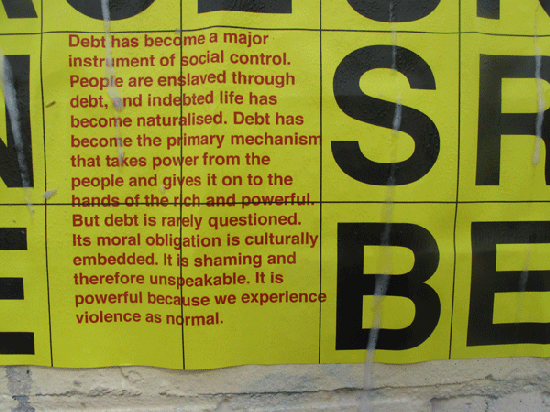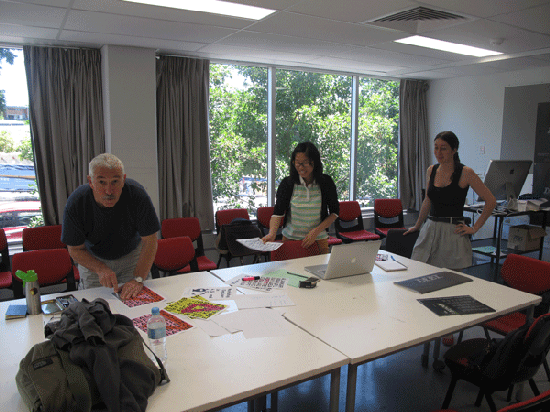 Manfred, Rachel and Emma- first poster print A4 mockups.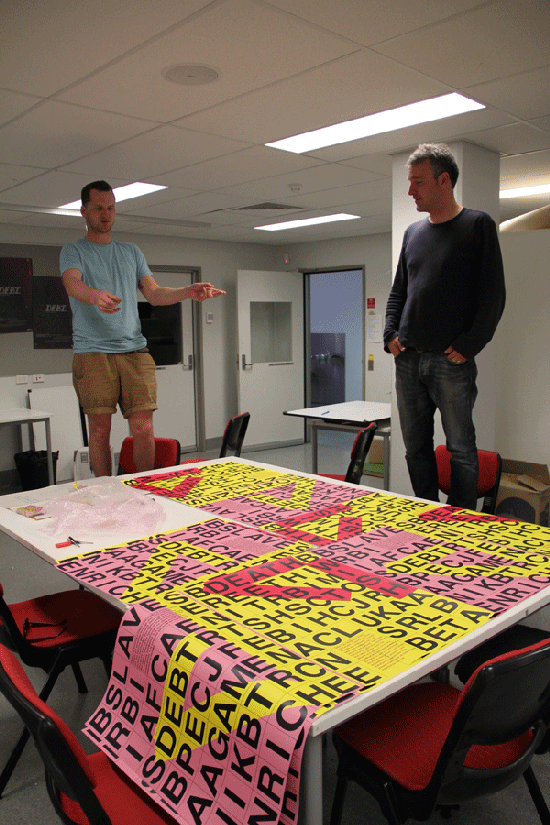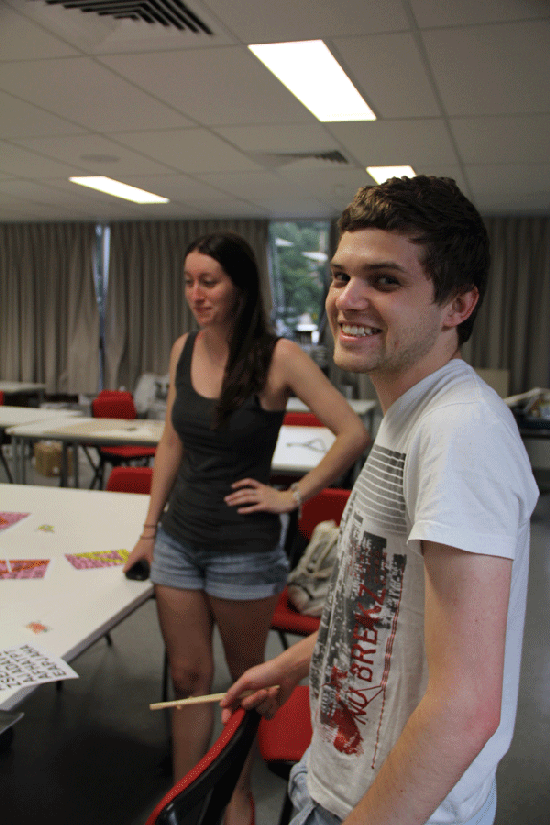 Emma and John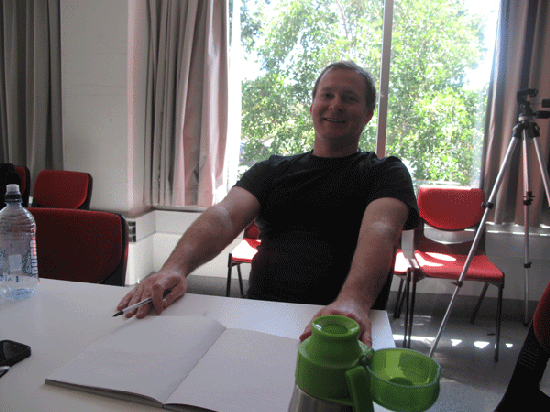 Ben Mangan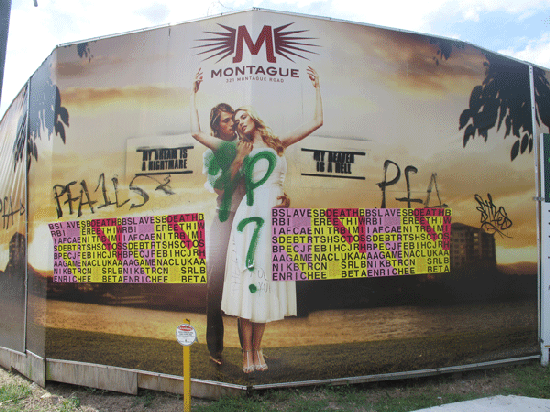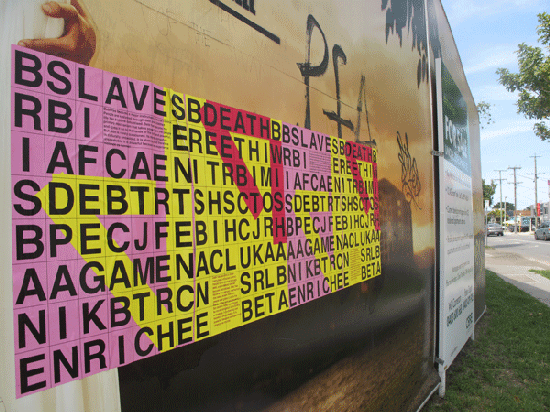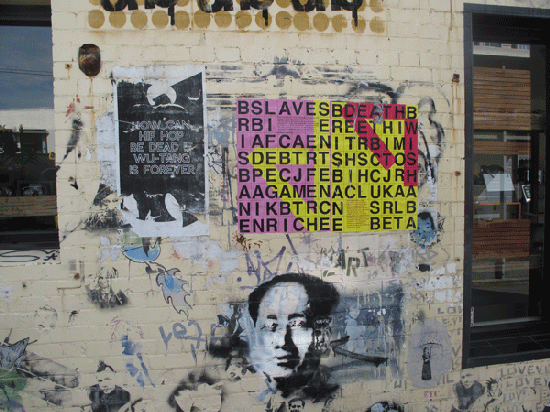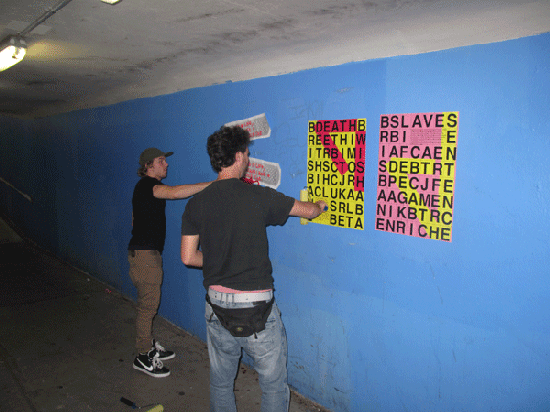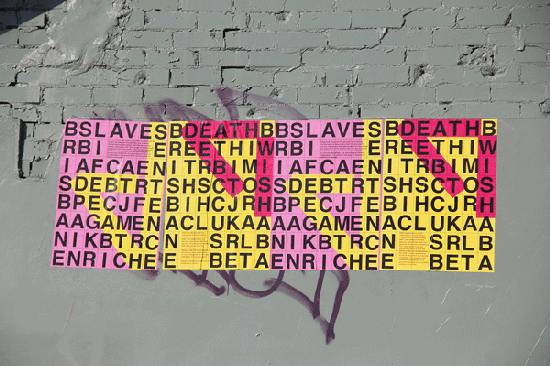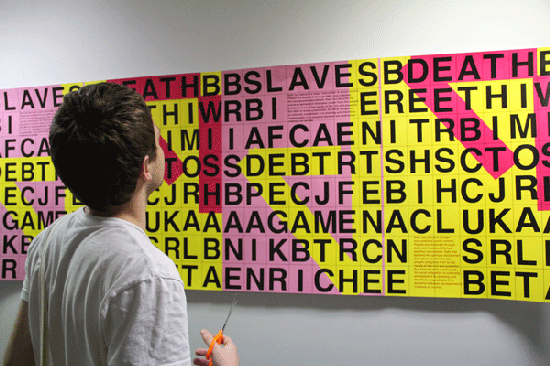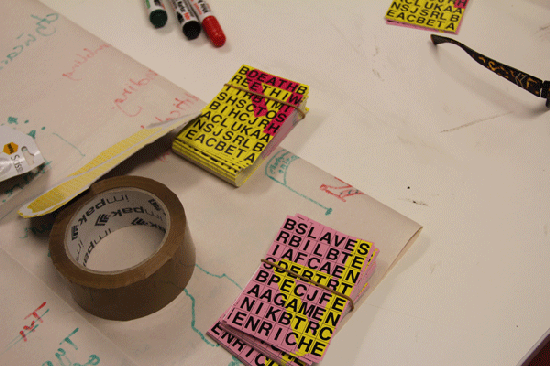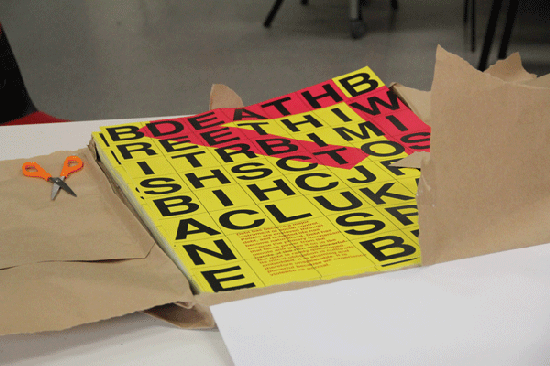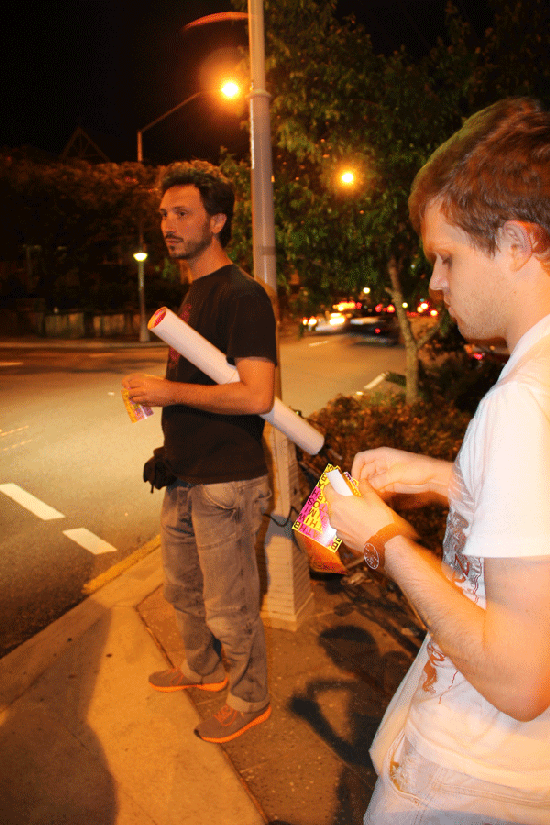 Ivan and John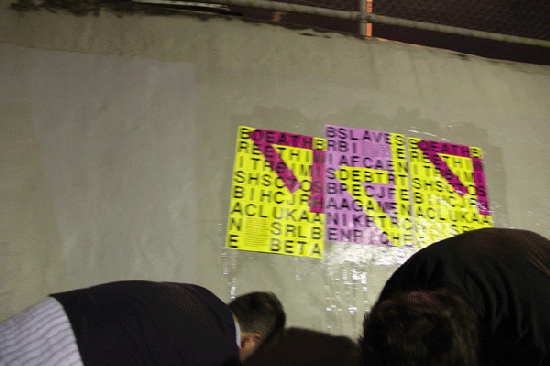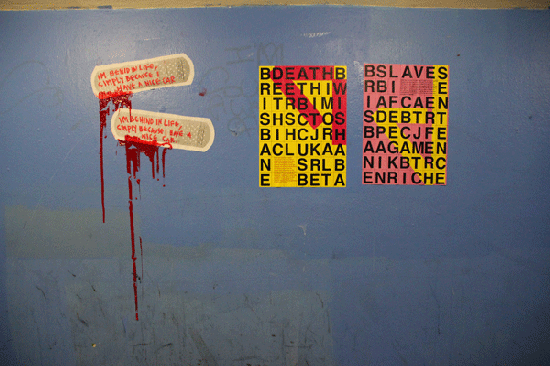 And than there was this funny guy, who started all this actions while we were doing our own stuff. Banner drop form Brisbane Comonwealth bank building and Facebook campaign... We tried to get in touch with him, but he never replayed. He just kept on doing his own stuff... Jonathan Banks- but we were somehow connected.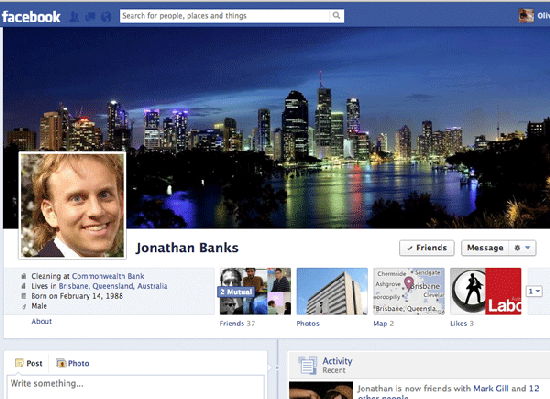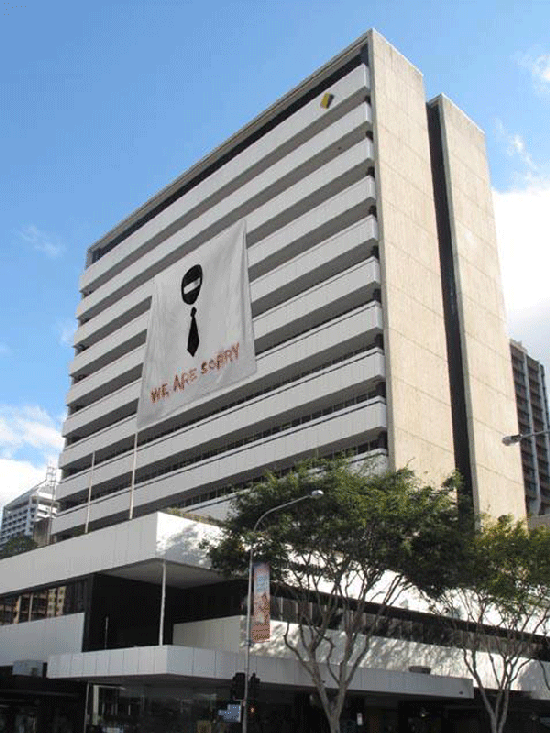 Brisneyland
Vladimir Turner used Brisbane as a playground for his poetic interventions. He worked with various media, from video to performance, and remixing urban material culture.
He saved 200 lives and got his nails done. He planted trees and discovered a secred parking space. And he also wants us to stop working. Bellow is the Brisneyland series that was created.
200 Lives saved
Check Guy getting nails done by illegal Vietnamese worker in Australia
No boomerang effect (performance)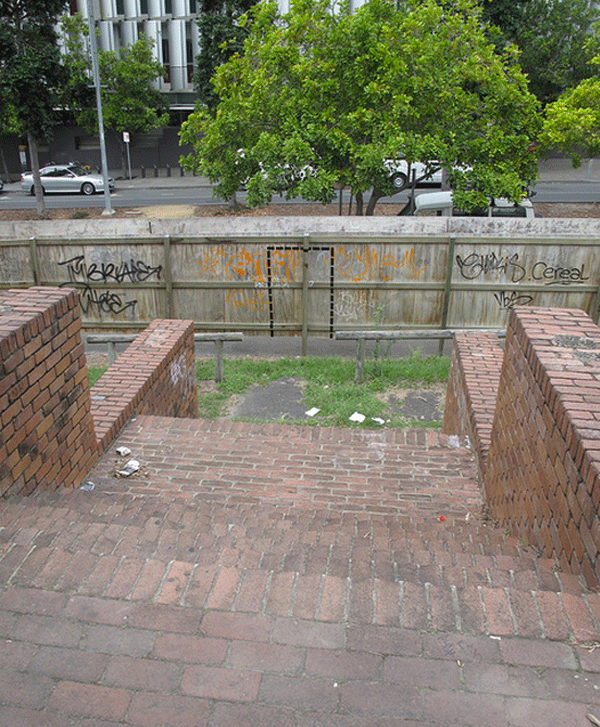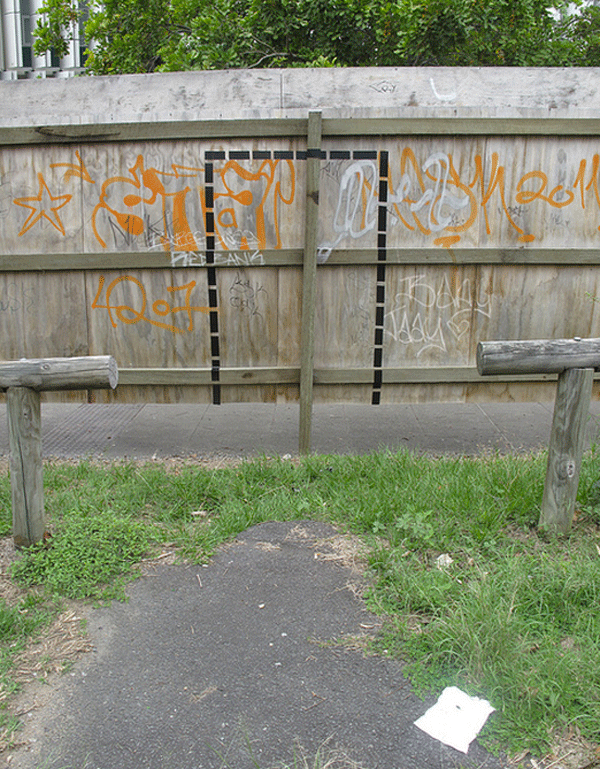 Short Cut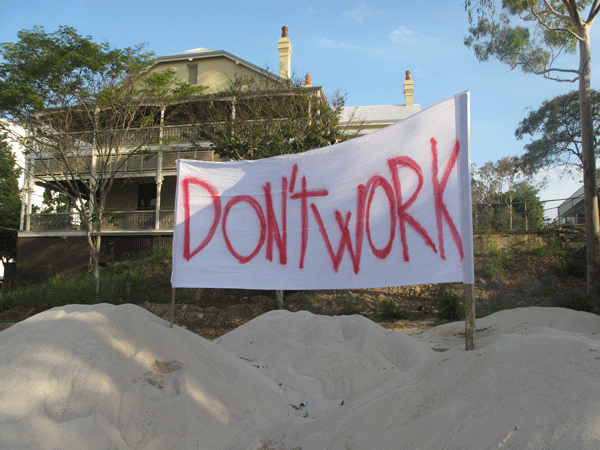 Dont Work banner next to QCA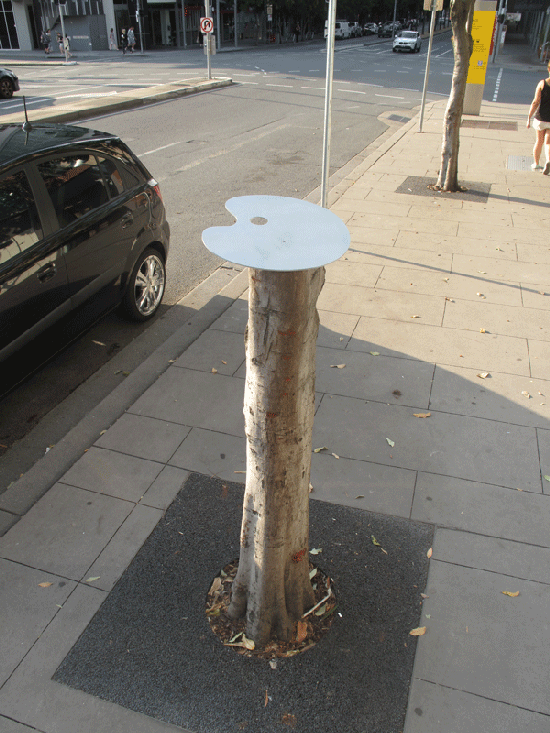 Grey street- the name of the street where QCA is. The street is a bit boring. Hence the work "Grey Street palet".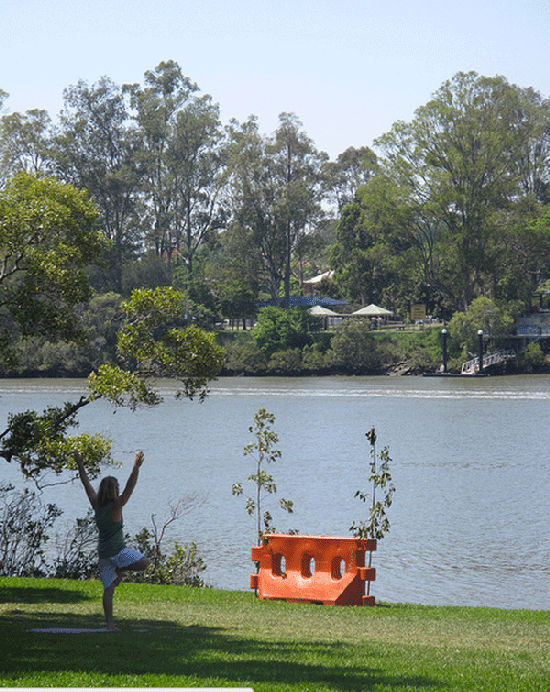 Everything is Fine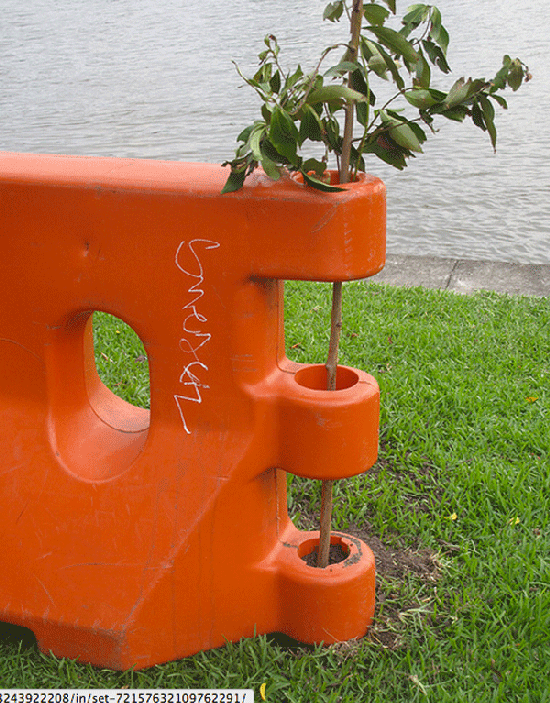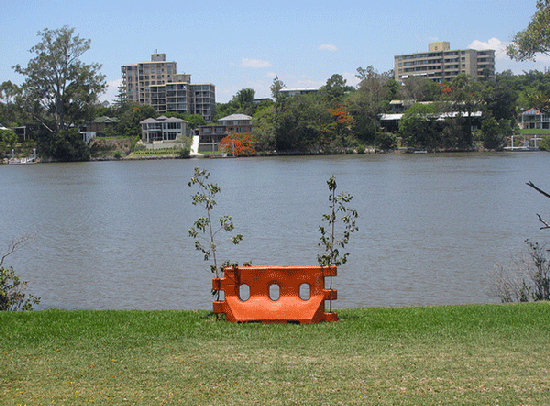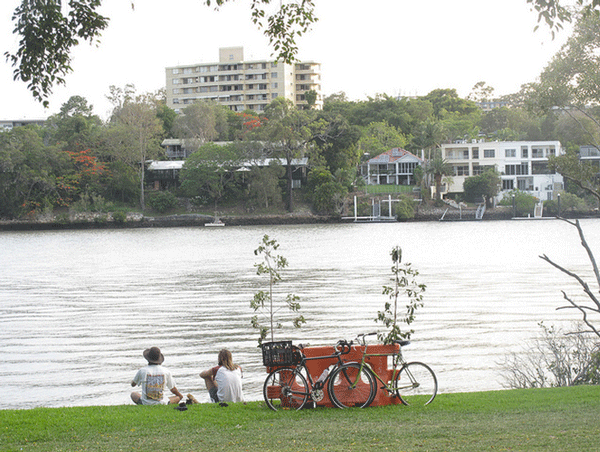 Revealing DEBT deceit
The third group played with a spectacular idea. The plan was to use the Southbank Wheel and turn it in to a pie chart graph that would show Brisbane DEBT related data- especially data in regards to missinformation presented by the current Campbell Newman Government. The plan was to hire the wheel, to light the cabins in different colours to represent different data, to make a series of good photographs and than get them to the media. The "biggest pie chart in the world" and similar titles would get this in to the media for sure.
The problem was with realisation as it turned out to be very complicated to pull off all the logistics.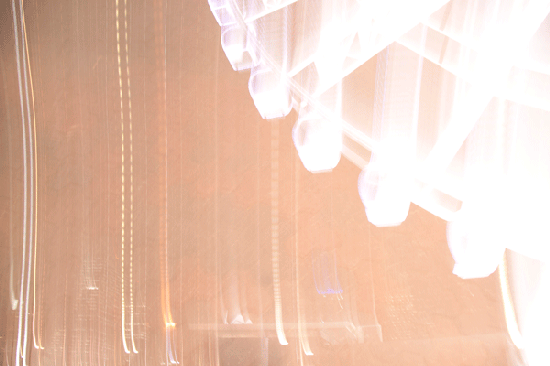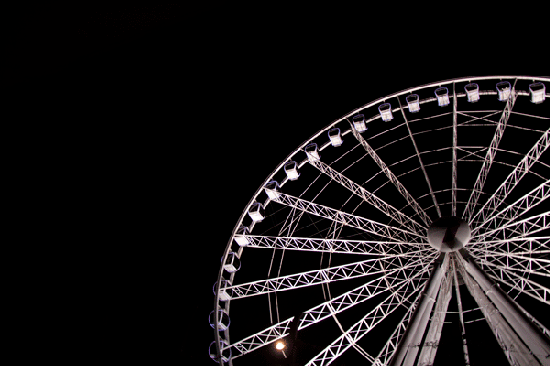 So, a day before the intervention the group had to rethink and came up with a very good tactical media approach. Campbell Newman's (premier of Queensland) CASINO. A campaign in a series of cards commenting the "gambling with our future" through DEBT in Brisbane, supported by a special web site that gives more information about the problem and offers the cards for download and distribution. See the cards bellow. Access the web site here: http://campbellscasino.wordpress.com and spread the media and get involved!
<a="">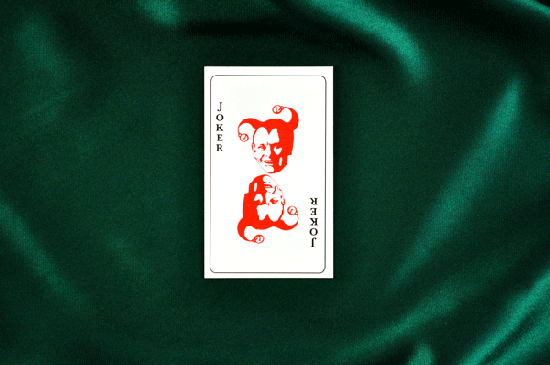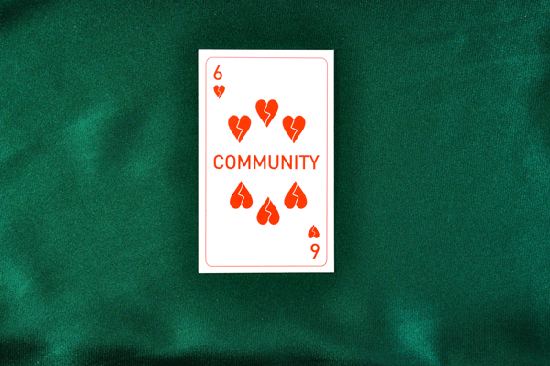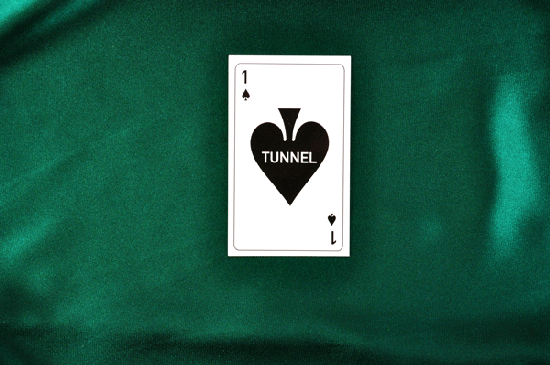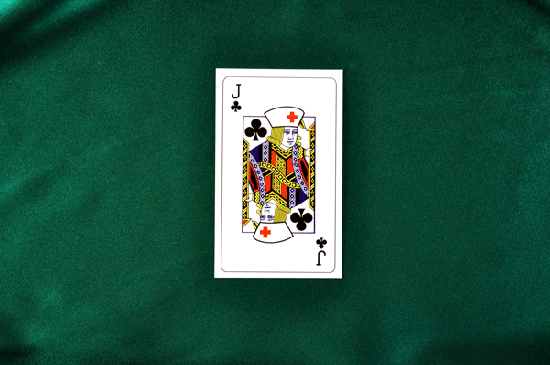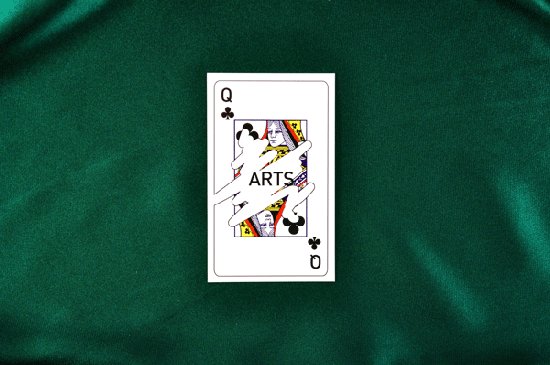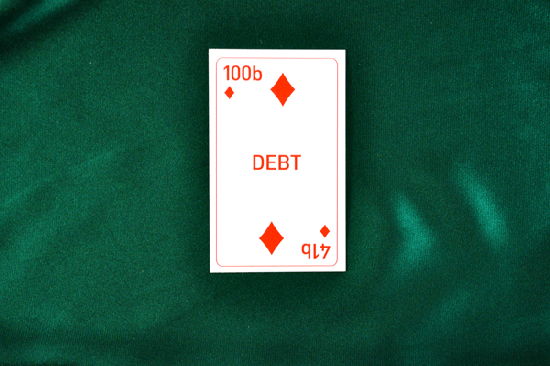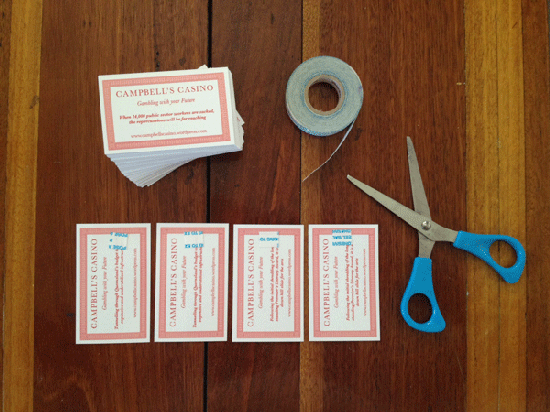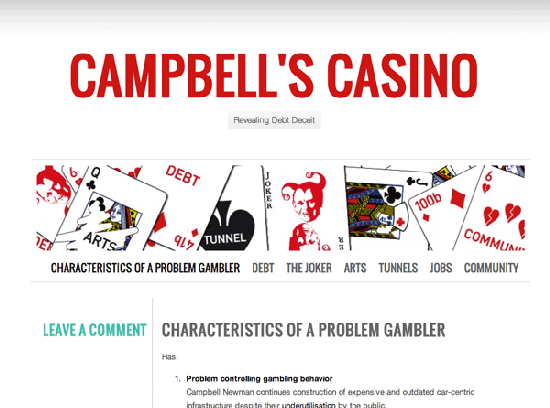 Screen shots of the Campbell's casino web site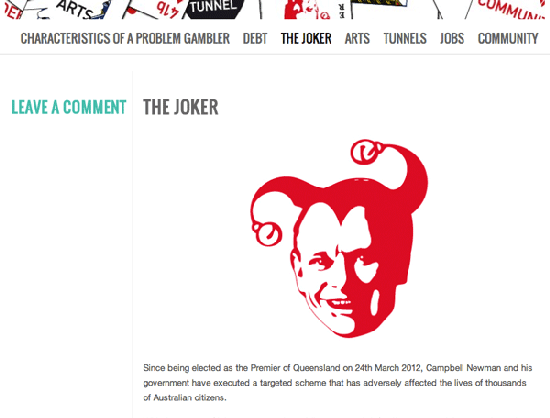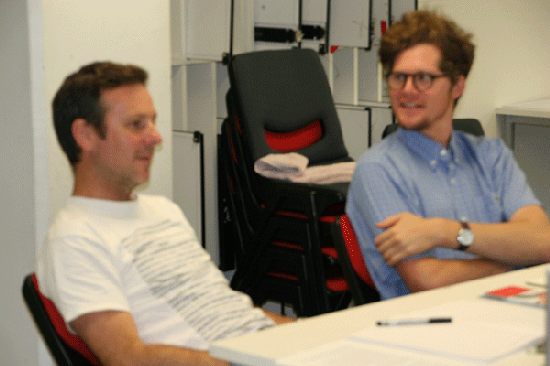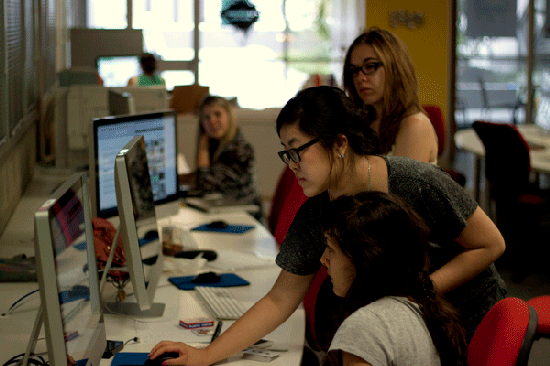 Melanie, Belinda, Zoe and Anna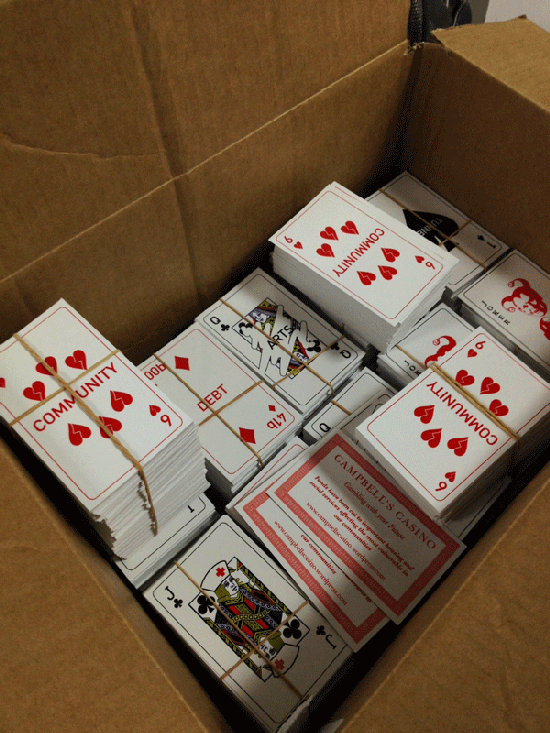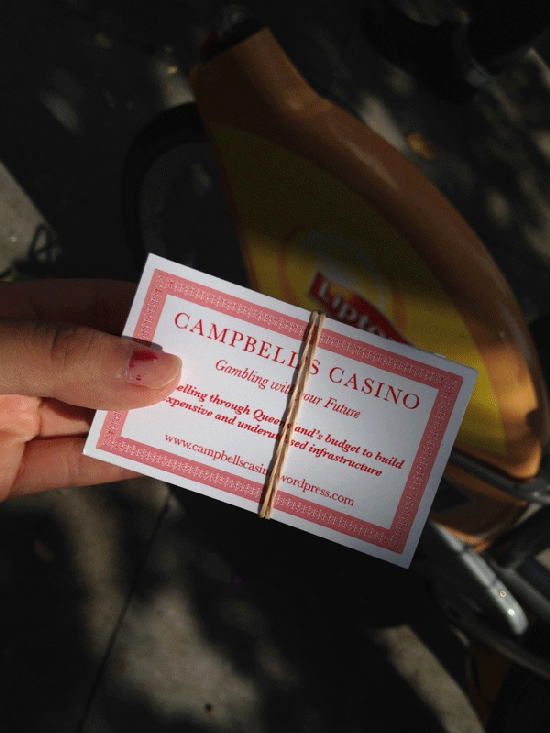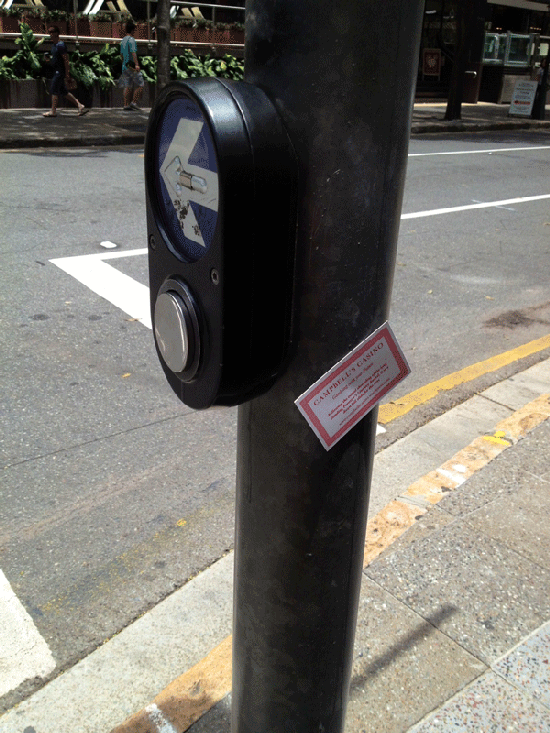 Consumed
As part of the event and intervention 120 copies of the Zine Consumed were produced and are being distributed in Brisbane. Consumed is the work from QCA student Ashlea Gleeson. The Zine was created in the Visual Communication Design 3 course and submitted to Memefest, where it got curated among the best submissions. The Zine deals with DEBT related mental health issues and shows original stories of young people in Brisbane.
Have a look at the submission and the curatorial feedback Ashlea received here: http://www.memefest.org/en/gallery/works2012/936/
Beautifully printed on the Risograph printer you can find it if you will want to in Brisbane. You can also download you own final and improved version here: http://www.mediafire.com/?wb08ajbjk3nja1n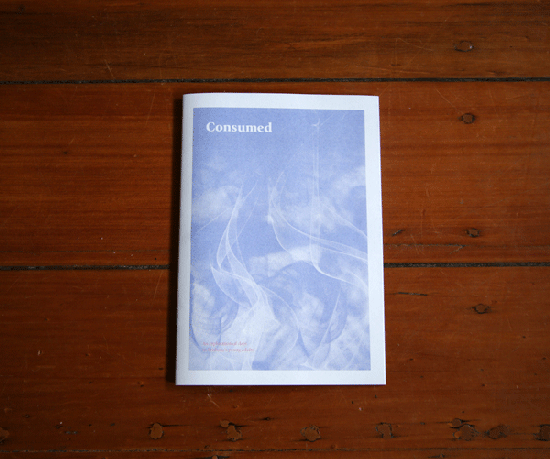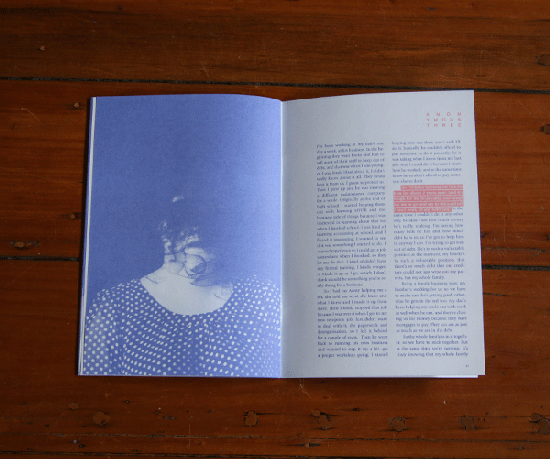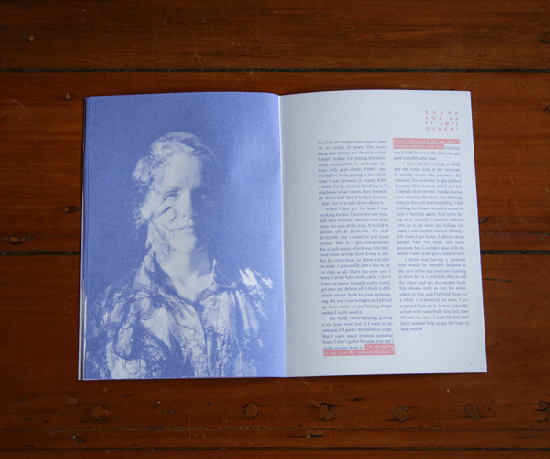 Indebted to Intervene
Indeed, this is how we felt since we started to work on DEBT. We have to intervene: to learn, to reflect, to create... there is no other option. The alternative is to loose the little autonomy modern societies of control allow us as individuals- or in the language of DEBT- us as enterpreneours- of-the-selves.
The Memefest/QCA Workshop/Seminar/Intervention worked as a social medium. In the end the majority of us wanted the event to continue, wanted more of this.
It was lot's of fun. It was inspirational and beautiful ten days that reviled many things. DEBT in Brisbane was the main one but not the only one. DEBTfest was good. We were able to create many good communication works. We were able to visualise DEBT in Brisbane. We established new relations, new connections and new micro platforms for future collaboration. We established new friendships. Some of us see the institution that hosted DEBTfest and its inner relations in new light. Most of us see Brisbane in new light. We learned a lot. DEBT was an incredibly difficult topic. It is highly complex, amorphous, invisible and therefore hard to grasp, to intervene and to think about. But this results - with all of the limitations- show a beautiful, deep, strong and many times difficult process. One that will need to grow and improve for larger effects, one that started a new and exciting process and was able to imagine, investigate and intervene.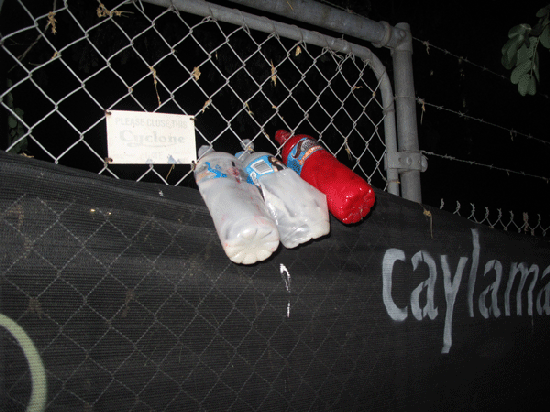 Glue and "blood" colour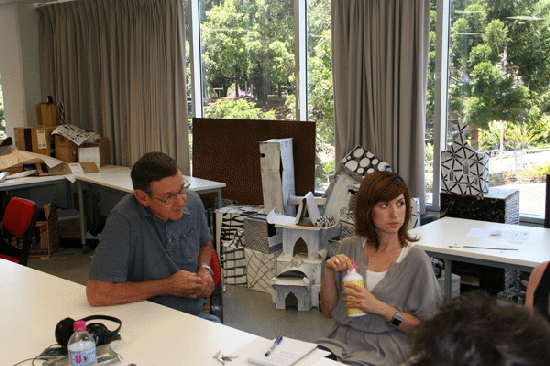 George Petelin and Eleni Kalantidou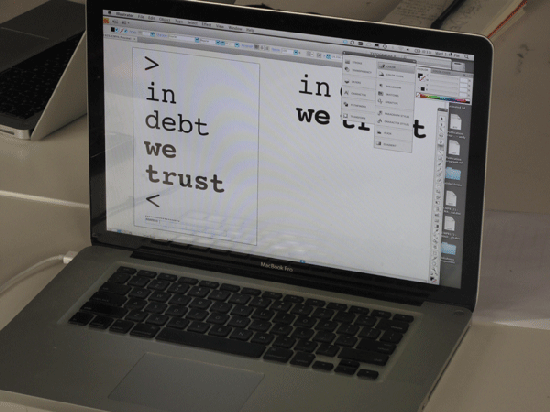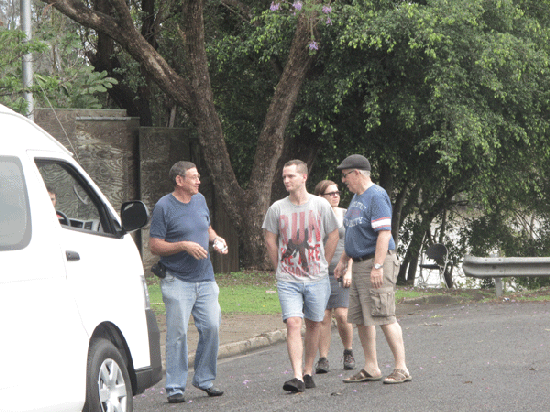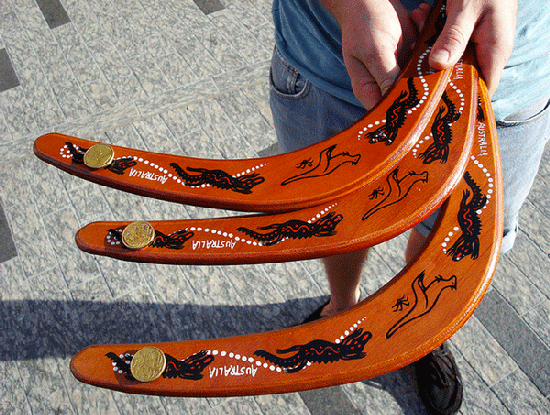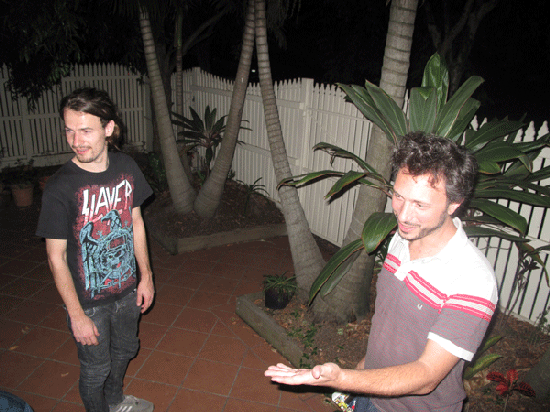 Memefest/QCA Awardees Soren Rosenbak and Ivan Kozenitzky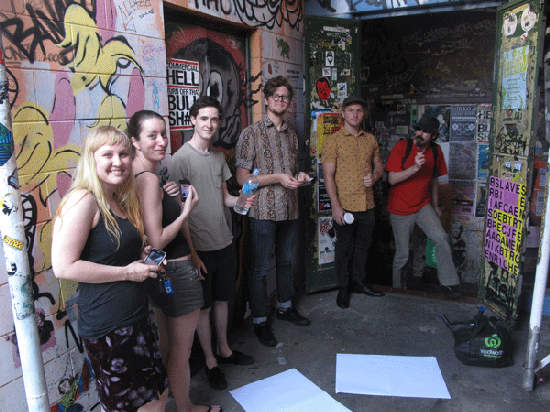 Ashlea, Emma, John, Shaun, Elliot and Johnny Walker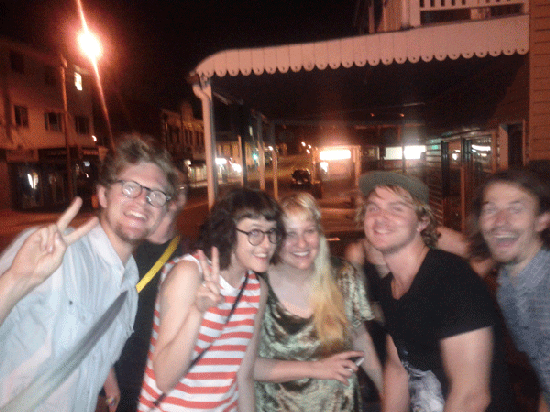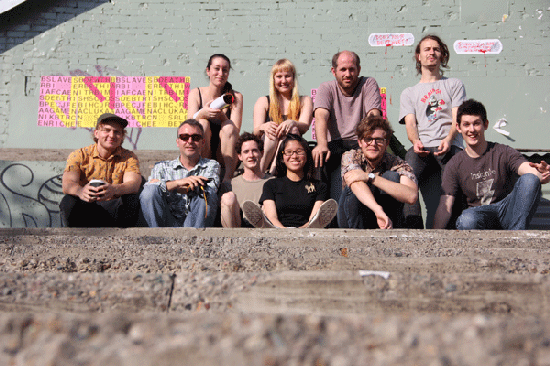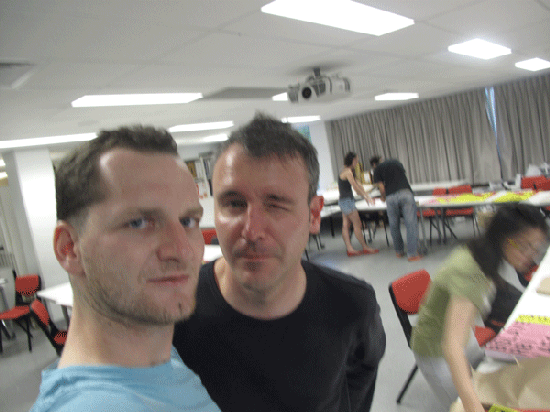 Socially responsive communication opens space for public dialogue, establishes co-operative communities, promotes active participation in social and cultural processes, and opens new communication channels. Further to this, and in order to communicate in a socially responsible manner, it stimulates critical reflection upon one's own communicative effects on society and culture. The major strength of socially responsive communication concepts is their constant tendency to operate around an optimal relation of communicative efficiency and social responsibility.
The condition of public sphere and the nature of predominant communication
practices require a thorough reconsideration of the evaluation standards of what is
widely considered good communication, as well as the development of new concepts,
which will analyze both the current state of critical communication practices as well
as anticipate their future development.
Socially responsive communication consists of different communication approaches. They operate on different social fields and are in productive conflict with each other. This concept overcomes the usual hermetic discourses of critique, while ideally not falling in the trap of cooptation.
As a communication and design theory, practice and praxis SRC creates conflict or it reveals hidden conflicts that are usually made unseen by the processes of imposed consensus, driven by marketing based advertising and design practice. Such conflicts happen mostly on the semiotic level- not always. They are necessary because conditions for dialogue are not given in the first place.
These conflicts are inherent to the theory and practice and are part of the research process, theoretical practice as well as its practical- hands on and other types of implementation. Not rarely Socially Responsive Communication provokes conflicts within the community that practices it. This is good as its aim is to change the habitus from a particular professional culture to a more critical- or better public communication culture, if I refer to public sociology (Burrawoy 2007). Its aim is to go beyond institutional boundaries. In our case first the flawed ones of the profession, second the hermetic ones of academia and work in close dialogic relation with various communities around fundamental values. Still remaining its reflexive practice that is necessary to maintain its theoretical practice driven objectivity. So, as much as Socially responsive communication is about dialogue and creating conditions for dialogue as an effect of its public engagement, as much dialogue is necessary to practice it successfully.
More about the workshops/seminar/intervention concept here: http://tinyurl.com/9a9x8qf
More about the workshop/seminar/intervention pre preparation activities here:http://tinyurl.com/as5d4vz
More about the Memefest/Queensland College of Art Award for Imaginative Critical Intervention here: http://tinyurl.com/8od38yk
Comments

ABOUT MEMEBLOG
Hey, welcome to the official Memefest blog!

Since 2003 we have been using a blog platform as tactical media to reflect, critique, comment and inform around the broad field of communication. Now in 2010 with our newly conceived on-line platform we hope that through time this space will evolve in a collaborative blog media with a wider group of contributors to the global discourse around social responsibility of media and communication. Stuff that you can find here is either original or carefully and originally edited from other sources.  There is a good chance that you will find things that will be of good use for you too if you follow us more regularly.

Of course we look at Memeblog as a dialogic platform. Your comments are encouraged and mostly welcome.

If you feel like collaborating in this: drop us a line: memefest at memefest dot org.