in collaboration with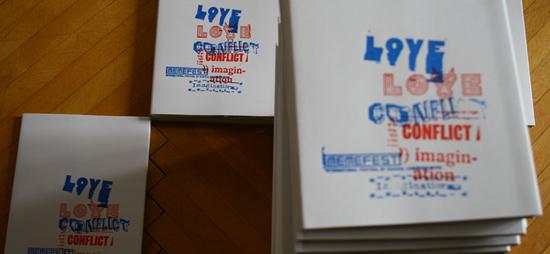 Unfortunately the news is not that fresh, but is still very relevant!
As some of you might know, we were working on the publication covering Friendly competition 2010-11. We got it from the printer just a day before our travel to Nijmegen where we organized Memefest Workshop. We know it was almost two months ago, but - with a kind of  summer vibe and a lot of other things to solve– we are finally presenting for the worldwide community the publication (at least in a digitalized version).
 
Inside you can find the selection of best projects and works from this year Friendly Competition, divided by categories (just to refresh your memory – participants could participate in three main categories: Visual communication practice, Critical writing and Beyond).
 
There are also two intro texts: Demonstrating relevance - by Nikola Janovič  and Love:Conflic:Imgination – by Oliver Vodeb, and a brief insight  into this year project etapes, with description of this year partners organizations.   
 
A big big thanks to all of you contributing your works! Hope it will serve as an inspiration of critical thinking and acting for everyone!
 
Some technicals:
Format: A5
Pages: 70
Printed on Offset Cyclus (100% postconsumer recycled paper)
 
At this certain moment we are trying to spread the printed version all over the globe. You will find it at least spread through our project partners hubs: Loesje in Berlin, Pink Sweater in Nijmegen (Netherlands), Pina (Koper, Slovenia) and Ljubljana – of course. There are some copies also in Brisbane (AUS), etc.

For the impatient ones we uploaded a PDF version on Isuu. Here is the link.
http://issuu.com/memefestpublish/docs/meme_publication_pdfversion

Your MEMEFEST TEAM.


Comments

ABOUT OPENBLOG
Open blog is a collective blog agregator.  Posts that can be read and viewed here have been originally posted by members of the Memefest community.

While members of the community  are able to check blog posts from the circle of their comrades within the on-line profile, this is the place where you are able to check on everything that has been bloged by anyone on this platform. The toppics and styles are diverse as this community consists of people from very different cultural, social backgrounds and also very different fields of expertice. Together- and through time- we hope – this gives us a good picture of radical communication culture.