in collaboration with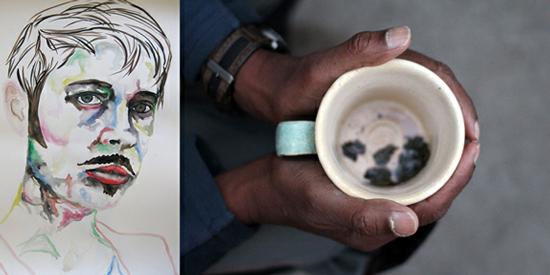 In case some of you are in Sydney I very warmly recommend this show!
Alana Hunt is one of Memefest's co-curators and her work is very impressive and inspirational. It shows that bringing change to unacceptable circumstances is deeply relational. Her work offers very gentle yet powerful insight that the core of who we are and what we can be is forming with listening , dialogue and taking time.

Here Alana exhibits together with Ingrid Dernée.

opening Wednesday September 26th 6-8pm

NEW WORK
by Alana Hunt and Ingrid Dernée

MORI GALLERY

168 Day St / Sydney / +61 2 9283 2903

opening night Wednesday 26th 6-8pm

OPEN FOUR DAYS ONLY

closing Saturday 29th September

12-6pm daily


With tea at the gallery on Saturday afternoon - do come down for a yarn.

ABOUT THE EXHIBITION

'Alana Hunt's work', writes Ann Finnegan, 'could be framed through a key question: How to be effectively political? She begins with conversation.' Fleeting. Intimate. Deeply philosophical. Reflective. Challenging. And at times a little cheeky.

In recent years Alana's multifaceted and highly collaborative practice has come about through long conversations – listening to and speaking with – the sounds and currents that emanate from Indian held Kashmir.

NEW WORK will see the first public exhibition of Cups of nun chai (2010-2012), a participatory memorial two years in the making, which emerged in response to the loss of life that took place in the valley of Kashmir during the Summer of 2010. Like an ever-growing memory, Cups of nun chai has unfolded over two years of tea and conversation into a gentle yet challenging refusal to let death of this sort be 'normalised'. Upon a scaffolding of names, dates and places originating from Kashmir, the engagement engendered over Cups of nun chai takes place through personal stories that connect Kashmir to countless other places and peoples around the world. Here it is personal experience and memory, with all its nuance and complications, which gives voice to history. www.cupsofnunchai.com

This exhibition will also include Alana's latest video …and on his iphone he played the Surah Yaseen (2012) along with the cheeky yet incisive Paper txt msgs from Kashmir (2009-2011), which developed from a thousand small pieces that were distributed throughout Kashmir in response to the ban on pre-paid mobile phone connections in late 2009. The disruption of communication continues in various ways in occupied Kashmir today, and over time this lo-fi intervention has grown into a multi-platform body of work involving video, installation and a publication that contains a collection of new writings from Kashmir.

Rafia Zakaria writes, 'Paper txt msgs from Kashmir…tells the story of an old conflict in the thwarted missives of those enduring its latest indignity. The result is a poignant, inventive and heart-breaking look at the interruptions wrought by the ban on people caught between two countries, two militaries and hundreds of millions of nationalism-fed egos. The 150 messages takes us, well-meaning web voyeurs, into the inner rooms of the Kashmiri limbo….'
http://dawn.com/2011/07/27/art-and-resistance/
http://alanahunt.net/papertxtmsgsfromkashmir.html


Haven't I Seen You? (2010) is a series that marks Ingrid Dernée's return to the use of painting and drawing as an investigation into whether the visual tools of mask and mirror can be used as a critique of dominant cultural stereotypes around gender. In these works Ingrid references Judith Butler's key idea that gender, and more broadly the self, is a performative action continually constructed through interplays with other individuals, cultures, institutions and society at large.

Through these portraits, Ingrid starts with the framework of the self - constructed and performative - as a means of investigating how cultural stereotypes and myths around gender can be playfully subverted through the use of mask and mirror. Mask can be a costume, guise or an object blocking the face, whereas mirror is both a literal reflection of the body as a projected self as well as metaphorically mirroring the way myth is constructed.

Ingrid's series of watercolours are broken into two parts. The earlier Haven't I seen you? are a stylised mirror of the artist. A kind of self-portrait in which the artist plays with gender subversion, trying on different types of body language and gazes, combined with the "mask" of facial hair. The physicality of the works in their large scale and lurid colours aim to saturate the viewer and overwhelm. The portraits are challenging in their penetrating gaze and the hint of sadness they embody.

In the most recent series I thought it would be braver (2012), Ingrid begins to playfully engage with the troublesome terrain of representing others. Sea urchins and anemones now become the mask. The subject, rendered mute, can now no longer be read. Unfolding through a process of subconscious and intuitive expression, making sense of these works becomes an exercise in description. The obscured portraits are equally about the joyful expression of the medium, as they are about what lies latent, though captured, within the visual form. The loose, bold brush strokes and almost gaudy colours of each face are juxtaposed with the mechanised, controlled and highly detailed pointillist pen work of the sea creatures. Claiming not to understand the motivation for these works, an unnerving sexual ambiguity is ever present.

Ambiguity is key. A story half told.

MORE ABOUT ALANA AND INGRID'S PRACTICE

Several seas away, some words were recently written about Alana Hunt and her bare feet slapping across the mud as she collected other peoples' damaged paintings in a washed away town somewhere in remote Australia. Wandering home, past the light of a soft fire, unable to disturb an old septuagenarian couple making love, damp beds smelling sour, a seemingly unmindful Alana searches for salt to put in the cups of nun chai from Kashmir that she holds tenderly in her hands.

Alana's practice defies singular definition. Characterised by a gentle though challenging approach to participatory and conceptual artistic traditions her work is best understood as a catalyst of culturally charged encounters that materialise through the local environments and relationships she inhabits. It is in this sense that her work is less about producing an artwork and more about putting-art-to-work.

Her work takes shape through sustained collaborative and interdisciplinary processes that make use of books, video, language, flavour and imagery, across both on and offline environments.

The politics of nation making, the contemporary legacies of colonialism and the deeply ambivalent nature of modernity have come to provide a certain contour to the underlying currents of her practice in quiet yet consistent ways.

Alana divides her time between South Asia, Sydney and the remote East Kimberley region of Western Australia, where she works for the artists of Warmun Art Centre. In 2012 she was co-curator of Memefest: International Festival of Socially Responsive Communication and Art and in 2011 Alana was awarded the Fauvette Laureiro Memorial Artists Travel Scholarship from Sydney College of the Arts. This scholarship will support her professional development over the next two years by enabling her to return to South Asia for extensive periods, while also undertaking creative research in The Balkans and meeting with Walid Raad of The Atlas Group in 2013.

Ingrid Dernée is a multi-disciplinary artist who works with concepts, materials and process.

Ingrid is interested in how the visual tools of mask and mirror can be used to subvert and question cultural norms and stereotypes around gender. Performance and its relationship to the formal qualities of drawing is another area Ingrid explores in practice. Working from a process based perspective Ingrid's work comes from a place of subconscious expression. Though sometimes unnerving, the works are an attempt not to censor this expression, but to actualise it, through drawing, painting and performance.

Ingrid previously completed a Master of Fine Arts at Sydney College of the Arts and has exhibited extensively throughout Sydney, as well as nationally and internationally most recently in Brisbane at the artist run space Level. In 2011 Ingrid was awarded the People's choice award at the Marrickville Contemporary Art Prize. With a strong belief in the joy creative expression provides people with, Ingrid currently works at Mission Australia's Creative Youth Initiative program as an Artworks! Tutor.

Ingrid and Alana are long time friends who chat across the seas and moons about love, politics, art, desire and often John Berger. They are excited to be sharing an artistic space together.

Comments

ABOUT OPENBLOG
Open blog is a collective blog agregator.  Posts that can be read and viewed here have been originally posted by members of the Memefest community.

While members of the community  are able to check blog posts from the circle of their comrades within the on-line profile, this is the place where you are able to check on everything that has been bloged by anyone on this platform. The toppics and styles are diverse as this community consists of people from very different cultural, social backgrounds and also very different fields of expertice. Together- and through time- we hope – this gives us a good picture of radical communication culture.