in collaboration with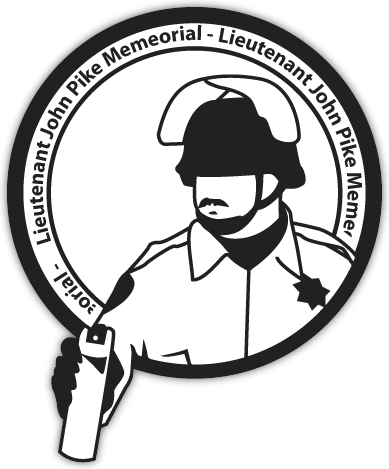 On November 18th, 2011, Lieutenant John Pike of the University of California, Davis police force casually pepper sprayed peaceful protesters at the UC Davis campus. By November 20th, Lt. Pike and his actions had become a meme. Today marks the third anniversary of both the UC Davis Pepper Spray Incident, and the Casually Pepper Spray Everything Cop meme -- two events of profound cultural importance that now seem largely forgotten.

The Lieutenant John Pike Memeorial Browser Extension (a.k.a. the Pike Memeorial) is an artistic intervention generated by a browser extension. If the extension is installed and activated (http://pike.memeorial.org), the user's web browsing experience will occasionally be interrupted by Lt. John Pike, who will walk into the user's browser window, shake his bottle of military-grade pepper spray, and temporarily blind the user (i.e. black out their current webpage). In this way, the Pike Memeorial transforms the user's browser into a memorial site for both the 2011 UC Davis Pepper Spray Incident and the subsequent Casually Pepper Spray Everything Cop meme.

We invite people to help memorialize the UC Davis Pepper Spray incident, as well as the Casually Pepper Spray Everything Cop meme, by installing the Pike Memeorial on their personal computers, as well as on computers in libraries, university computer labs, and other public spaces. To aid in public installation efforts, we have created an informational document that can be distributed to users, staff, and other interested people (http://pike.memeorial.org/info.pdf). In addition, we have also created a version of the Pike Memeorial that can be installed directly on a website, so that any user who points a web browser at that website will experience the project. Instructions for installing both the web-based version and the browser extension can be found at the bottom of the project home page: http://pike.memeorial.org/

If you have questions about installing the Pike Memeorial on a website or a personal computer, please feel free to contact us at info@memeorial.org. We're still ironing out a few wrinkles and fixing bugs, so we would greatly appreciate your feedback and suggestions. For press-related information, please refer to the Memeorials presskit() page (http://memeorial.org/press/index.php), and the Pike Memeorial presskit() page. Thanks to the Memefest community for spreading the word, and also for sharing our work at this year's festival!
Comments

ABOUT OPENBLOG
Open blog is a collective blog agregator.  Posts that can be read and viewed here have been originally posted by members of the Memefest community.

While members of the community  are able to check blog posts from the circle of their comrades within the on-line profile, this is the place where you are able to check on everything that has been bloged by anyone on this platform. The toppics and styles are diverse as this community consists of people from very different cultural, social backgrounds and also very different fields of expertice. Together- and through time- we hope – this gives us a good picture of radical communication culture.