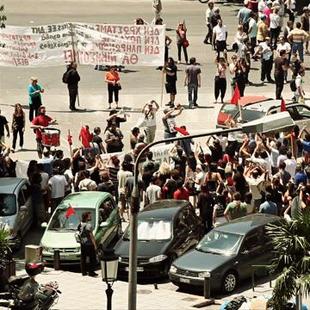 ABOUT ME
Username
George_Kontos
---
Name
George Kontos
---
Birth year
1976
---
Gender
male
---
Country
United States of America
---
Website
---
Description
George Kontos (b. 1976, Greece) is an artist based in Los Angeles. His works to date include, video, photomontage, drawing, and sculpture that frequently employ modes of visual auto-fiction, as well as documentary and archival production. His practice explores typologies drawn from archaeological and architectural historical archives, staging these sources as indefinite, visionary, useless, aorist and/or mystic structures.
Exhibitions include 'Adventures Are Dead My Dears' at Renwick Gallery, New York, NY (2010), Artissima,Turin, Italy, (2009), Thessaloniki Bienalle, Thessaloniki, Greece, (2009), Nada Art Fair, Miami Beach, (2007), 'The Pyramid Show', Monte Vista, Los Angeles, CA, (2007), 'We've Lost the Hearts and Minds…', E:vent Gallery, London, (2006), Centrefold video, Zoo Art Fair, London, (2006), 'Royal Alumni', Enjoy Gallery, New Zealand, (2006) and 'What Once Passed for a Future or The Landscapes of the Living Dead', Art 2102, Los Angeles, CA, (2005). He holds an MFA from CalArts and a Degree in Architecture from the Aristotle University of Thessaloniki.
---
I have joined the Memfest community becasue i am interested in
art and film.
---
Faculty
CalArts, Valencia, CA, M.F.A.
---
Education
architect, visual artist
---
Working place
Art Institute of Hollywood
---
Collaborators
Peter Nikoltsos, Harris Mylonas
---