MY COMMUNITY BOARD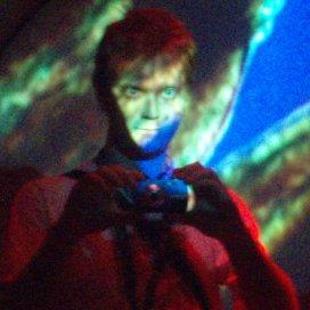 ABOUT ME
Username
gentlejunk
---
Name
kruno jost
---
Birth year
1873
---
Gender
male
---
Country
Croatia
---
Website
---
Description
Kruno Jošt is holding MFA in new media arts on Transart Institute, Dunab University Krems, Linz. He is involved in the wide range of artistic practices that span from personal to collaborative and participative works using trandisciplinary discourse, researching relationships between art and culture, new and old technologies, new technologies and consciousness. He works in media of sound, video, performance, installation, social interventions and media hacks. His emphasis is in non-conventional and on embracing and initiating group efforts.
Recent exhibits include ConcentArt gallery in Berlin, NANO gallery in Zagreb and festivals such as Futuresonic Finge in Manchester, Liwoli Linz, ArteMov festival in Salvador, PD convention in Sao Paulo. He is also active in Croatian improvised music scene and independent media and on-line publishing.
He is acting through GenteJunk collective where, from 2006 he collaborates in many ongoing projects: an improvised, open, music and visual sessions Impromondays, Live Noise Tupi and NoiseWall. He was one of the founders and editors of magazine for culture: 04 - Megazine for Reality Hacking, one of the founders of Croatian Internet radio network Free Radio: Station MIR (FRSM), and running GentleJunk NetLabel for non conventional music. He also initiated ongoing research on exchange in free and open culture that involves EU countries, Croatia and Brazil.
Kruno Jošt is one of the founders of organization 'UKE' in Krizevci (Urban Culture and Education) which focuses on international collaboration, cultural exchange and networking in new media art. He organizes international art meetings, residencies and festivals: Experimental Electronic Interventions (EEII) since 2004 and Multimedia camp (MMKamp) since 2006 and its offspring, project Free Traveling Radio.
---
I have joined the Memfest community becasue i am interested in
Exchange
---
Music I like
http://gentlejunk.net/audio
---
Books I like
P.K.Dick
---
Films I like
Zeitgaist Addendum, Network, Nashville... ... ... .. .. . . . .
---