"this is already about the Crisis of Western Civilization.
"


"Dears,

we all had passed Memefest friendly competition. The friendly workshop was organized in Nijmegen to promote socially responsive communication concept.

I think all of us noticed that of great friendship between Memefest and 100% Male speakers of panel.
So, I'm contributing here with my question to Oliver.

I'm curious, why in Nijmegen we hadn't any female professional from the competition jury?

You publicize the principle that speakers had to be extremely good at what they do. So, no woman to be extremely good at what she does? From the other hand, I have to admit that super man professional usually doesn't discuss but evaluates. I have to admit, that Vida (she tried to be in our group) was more talkative (more as a member, than co-mentor).
Finally, we could have more discursive 'inspiration day' while it was totally representative. "

"p.s.

Would be great to overcome the knowledge of visual world with producing operative images and only.

from the repertoire of a dreamer."

"In the very beginning, education was politicized and now it is commercialized. What a change!
Civilization could be started with the food as a product, as Engels put it.

Supplementary knowledge is a product, no doubt in it. Because it wasn't shared worldwide.
Knowledge is a product (food), that brings a power.

Also, it never was costless. I'm working now with 8 class students in Armenia's region.
Students and their parents use money at the school, for their Rating.

Dear Oliver, I liked much "Real participation is not part of marketing culture" of you,
but no: participation is a part of marketing, it creates itself as a culture.

When I share my knowledge with them, anyway,
telling that in the future no any local institution wouldn't like them if they are open thinkers,
that is local context, in which education (academy) is highly politicized but not commercialized yet.
That allows me to do one step back (from foregoing texts) to say:

European knowledge (academy) never was given to the world for free, through nonhierarchical communication,
namely- equal in Price. But now, using this visual world,
we have the possibility to share our knowledge with any viewer. "

"don't know how, but i'm getting my enthusiasm back. thank you

karin

"

"3 weeks of friendly judging!) "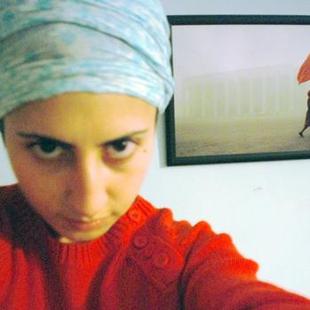 ABOUT ME
Username
karin
---
Name
karin grigoryan
---
Birth year
1983
---
Gender
female
---
Country
Armenia
---