nikolajanovic
10 years, 1 month ago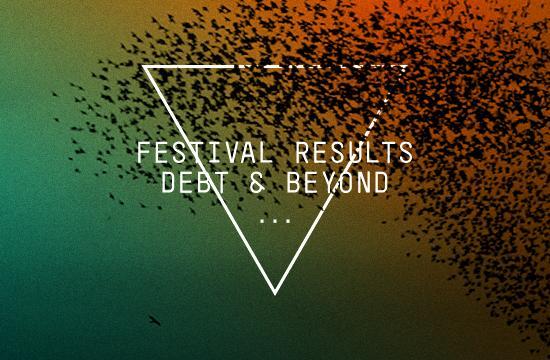 Dragi Memefestovci, danas smo na našoj web strani objavili prve rezulate Memefestovog prijateljskog natečaja (2012)!

Na raspisanu temu – DUG – prijavljen je veliki broj radova u svim festivalskim kategorijama. Nije nas obradovao samo veliki broj vaših prijavljenih radova, već i njihovi sadržaji i refleksije o ovoj – za današnje vreme – bitnoj i globalno aktuelnoj temi. Pored toga, raduje nas što ste se odazvali našem pozivu i participirali u prvom ozbiljnom istraživanju koje je problematike DUGA seciralo kroz komunikacijsku perspektivu. Na osnovu prispelih radova iz 35 zemalja sveta, možemo reći da ovaj Memefestov projekt, u kome ste učestvovali i Vi sa svojim radovima, donosi nova i sve više potrebna saznanja o delovanju današnjeg kapitalističkog sistema i njegovoj logici koja bazira na principima zaduživanja (oblik kolonizacije života). Spoznanja koja ste podelili sa nama preko svojih radova u oblasti teorije, dizajna i umetnosti , otvaraju nove dimenzije razumevanja uloge komunikacija u okviru kapitalističnog sistema, ali i pomažu da se redefiniše tok savremenog društva u kojem je dug postao nešto svakidašnje. Upravo potreba da se promeni stanje stvari u našem globalnom-lokalnom društvu, da se oslobodimo kapitalističke kolonizacije, naglašena je kroz vaše radove; ona govori o postujućem emancipatorskom potencijalu koji se komulira all around the World. Ta ista potreba koja se manifestira kroz vaše radove i participaciju na našem – Memefestovom neovisnom festivalu/natečaju, govori i nešta drugo, a to je više nego značajno: da su neovisni festavili koji participiraju na samoorganizovanju znanja van institucionalnih formi itekako potrebni za uspostavljanje alternativnih pogleda na prošlo, današnje i buduće delovanje dnanšnjeg svetskog (i domaćeg) društva/sistema. Memefest je u svome delovanju, upravo pomoću vaše participacije, kao i dijaloga koji se je razvio između svih nas preko Memefestovih strana, zapravo postao proces (praksa) koji proizvodi mnoštvo obrazovnih intervencija i artikuliše mnoštvo kritičkih i kvalitetnih sadražaja koji menjaju »klasični« pogled na komunikacijsku struku; pre svega tamo gde se komunikacija interdispilinira i stvara hibridne odnose sa drugim poljima: sociologijom, vizualnim praksama, umetničkim intervencijama, teoretskim i aktivističkim praksama, dizajnom i medijskim studijama.

Na našim web stranama smo objavili najbolje ovogodišnje radove i pored njih
komentare naših žiranata. Kao što znate, proces žiriranja je složen, i zahteva dosta vremena. Komentari naših žiranata su temeljiti i proizvod su ozbiljne refleksije izabranih radova. Ovi pojedinačni komentari svakako ne odražavaju festivalske celine. Analiza celokupnog festivala uslediće nekoliko kasnije, kad se malo polegne »festivalska euforija« i kad izaberemo iz svake kategorije (teorija, vizuelna praksa i beyond) po jednog dobitnika naše ovogodišnje nagrade – participacija na interdisciplinarnom workshopu kritičke intervencije u javni prostor na Queensland College of Art, Griffith University, Brisbane.

Dobitnici nagrade za najbolje radove iz pojedinačnih kategorija biće proglašeni 31. Julija na našoj web strani.

Najbolje ovogodišnje radove možete od danas pogledati na Memefestovoj web GALERIJI 2012: http://www.memefest.org/sr/gallery/works2012/

Čestitamo participantima čiji radovi su izabrani za najbolje, svim ostalim participantima zahvaljujemo se na saradnji! Pozivamo Vas da pogledate/pročitate prijavljene radove i u što većem broju ostavite vaše komentare.

U imenu Memefest Kolektiva, pozdravlja vas Nikola.

Comments