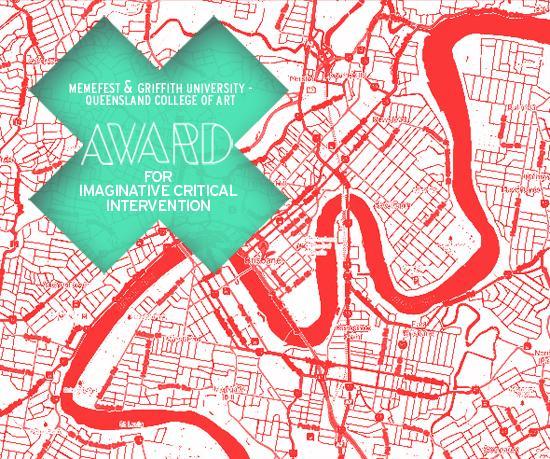 Three more weeks to go. Our deadline to submit to the Friendly competition is May 20th. (Ps: Deadline is extended to May 31!) As it goes with competitions - the question of awards arises. Memefest is here pretty special. In the past twelve years, since we started we have developed a unique approach to the competition. On that is participatory, public, collaborative, dialogic and research driven. One that is more formative than selective. Through this we change the very logic of the game.

This post on Awards is about your chance to get invited to a very special event, designed as a research seminar/conference- workshop- public intervention in Brisbane Australia. Pretty exciting stuff!!

The award for Imaginative Critical Intervention is given in collaboration with the Queensland College of Arts/ Griffith University and is part of our new artist/designer-communicator/theorist in residence program that was started last year. We will fly one author of a chosen project in each category (Visual communication practice, Beyond..., Critical writing) to Brisbane, Australia.

The Award promotes excellence in design/communication for social and environmental change and connects Memefest's philosophy with the philosophy of the Design Futures program at QCA.

The award for Imaginative Critical Intervention is given to support critical thinking, as the ability to see situations as they are and imagine them differently in a way that can emancipate and lead to transformation through intervention. Such interventions can be many things. They create a rupture in the order of things with the goal to redefine our relationships between being, doing and saying and our fields of experience. Such interventions conditioned by critical thinking are tightly connected to the principle of response-ability, which is an active position of engagement and the quality to transformatively act in situations, insisting that what matters are the human implications and not only the market implications of situations.

The main reason for Memefest's collaboration with QCA are its progressive forces and the launch of the ambitious Design Futures program (www.designfutures.com.au), which in many ways shares common philosophical frameworks in theory and practice with Memefest. Design Futures is the first program that attempts to implement a radical and therefore productive critique of the design profession within a whole university department. It's pedagogy and research aim to be tightly connected with the strong traditions of critical thought. Usually (if at all) such critical attempts are being made on a much smaller scale. In any case they are extremely rare. Memefest has from its start- ten years ago- collaborated with universities from around the world and has contributed to inner institutional change. To contribute to developments, which have been so far developed mainly outside institutional contexts is really exciting as they are a historic opportunity.

Besides for design/communication, the award is also given for artistic practices. The special category Beyond... encourages participatory art that works towards social change. Here the link: http://www.memefest.org/en/competition/beyond_intro/

And of course, the category Critical writing focuses on essays or theoretical work, that reflects on this years theme FOOD DEMOCRACY. Link here: http://tinyurl.com/dxqhn97


If awarded, you will be able to participate in a special workshop for extradisciplinary investigation at the Queensland College of Art. You will be invited to collaborate with some of the best hearts and minds in communication/design/art: theory/practice on a project that will result in a public intervention in the city of Brisvegas.

Have a look at last years awarded works here: http://tinyurl.com/brv62zw

See what happened at the last Memefest event in Brisbane here: http://tinyurl.com/cs9yo3z

So, good luck. Your submission is important as it is also a contribution to the international discussion and to the research process on socially responsive communication and art. We are very much looking forward to it!



Comments