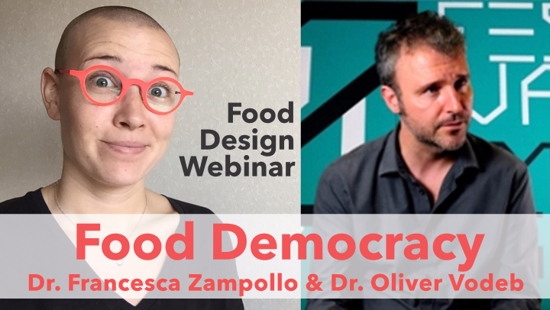 Dear Friends, join us for the FOOD DEMOCRACY live Webinar where I will be together with Franceska Francesca Zampollo discussing the latest book, Food Democracy, Critical Lessons in Communication, Design and Art on November 22 7 PM GMT+ 1.

Check more about the book here: http://memefest.org/en/fooddemocracy/


Find link for the webinar here: https://www.youtube.com/watch?v=z8D1G4gwwVA.

If you can't make it for the live webinar, don't worry, you will be able to watch the whole session on this link: https://onlineschooloffooddesign.org/p/food-design-webinars?utm_campaign=custom_email&utm_medium=email&utm_source=student_mailer.

Here are the times: 7pm GMT+1 - Paris, Berlin, Rome, Madrid etc.

6pm GMT - UK, Lisbon, etc.

4pm GMT-2 - Brasilia

2pm EST - NYC

11am PST - Los Angeles

12pm CST - Mexico City

1pm GMT-5 - Bogota'

11pm GMT+5:30 - New Delhi

3am of November 23 GMT+9 - Tokyo

5am of November 23 GMT+11 - Melbourne

Looking forward to see you and discuss more.
Comments