"Pardon, tema ni :integracija kaosa na družbo skozi kreativne oči, ampak : integracija kaosa V družbo skozi kreativne oči"

"Moje znanje hrvaščine in srbščine na žalost ni zadostno, da bi pisal v kateremkoli od teh jezikov, upam, da bo slovenski komentar OK. :)

Pozicija kreativne osebe (tukaj mislim predvsem sebe)znotraj današnje situacije je resno razdvojena, v smislu razlike med zagotavljanjem eksistencialnih dobrin in pa neko demokratično uporabo in konzumacijo znanja. Kot oblikovalec se zavzemam za kritičen odnos do vsake stvari, ki jo počnem ali konzumiram skozi katerikoli čutni kanal, vendar mi v delovnem in izobraževalnem okolju nekako ne zadošča samo to. Družbena potrditev (s preferirenco na ljudeh iz nekapitalističnih vod), kot eden največjih faktorjev za lasten obstoj, me je tako v gornji objavi, kot v Oliverjevih besedah in vzpodbudah pobožala do nezavesti. ;)

Če to navežem na mojo življenjsko ljubezen, delavnico, katero se trudim vsako leto organizirati, in kjer neznosno zadovoljim drugi aspekt prve zgornje misli, se kontekst letošnje tematike zgodi prav v analizi podobnih problemov kot ga opisuješ.
Koncept ki ga bomo na letošnji delavnici Vajkard (http://www.memefest.org/en/projects/2010/11/vajkard-international-workshop-of-artsdesign/) obravnavali, bo integracija kaosa na družbo skozi kreativne oči, s kaosom je mišljena analiza tako matematičnih in filozofskih, kot tudi družboslovnih aspektov tega fenomena.

Če povzamem Oliverjevo misel, da gre za obliko neinstitucionalnega izobraževanja na anti-komercialen način, se mi zdi, da je nujno v takih primerih povprašati za mnenje strokovnjake iz različnih področij in s stališči podobnimi tvojim.

Kakšne ideje, kakšen komentar?"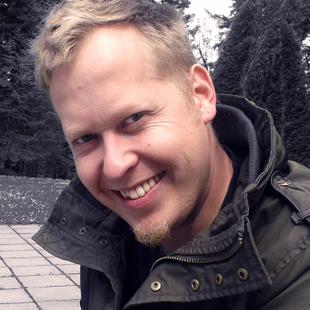 ABOUT ME
Username
tino
---
Name
Martin Petrič
---
Birth year
1983
---
Gender
male
---
Country
Slovenia
---
Description
Martin Petrič, (Postojna 1983)
Visual designer, illustrator and visual artist concentrated on practicing and exploring traditonal and contemporary techniques in art and bringing them to public. Visual thinker and responsible communication ambasador, always opening new connections between artists and educators. I have created a link between education and conventional and alternative practices and theories trough curating Vajkard workshop in collaboration with my mentor Zdravko Papič, Academy of fine arts in Ljubljana and others. My work is dedicated to exploring individual creativity and diversification of visual languages. I am working in Art, Design and Education fields for more than 15 years.
---
I have joined the Memfest community becasue i am interested in
Collaboration with interesting people.
Always searching for new forms of visual "poetry" in different media, i do not confine my work on any specific style or media, in fact, I try to conscously avoid developing any visible styles of my work, which i know is near to impossible. But i like to think this helps me to explore visual affinities of diverse cultural or market oriented groups, movements or entities. This all derives from my will to try to understand the contexts of visual languages different cultures use, and consequently, i try to understand each visual culture and it's powers.
---
Faculty
ALUO Ljubljana
---
Education
BA graphic designer
---
Working place
Designer and Art Director Humanfish. brewery, Portal itn, Oistros Edizioni, Angelis
---
Collaborators
Oliver Vodeb, Antonio Rollo
---